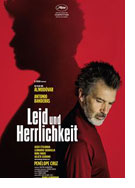 Leid und Herrlichkeit (Pain and Glory, Dolor y Gloria)
Spain 2019
Opening 25 Jul 2019
Directed by: Pedro Almodóvar
Writing credits: Pedro Almodóvar
Principal actors: Antonio Banderas, Asier Etxeandia, Leonardo Sbaraglia, Nora Navas, Julieta Serrano
Back pains, shoulder pains, migraine, ligament trouble. Renowned director Salvador Mallo (Antonio Banderas) hasn't left his Madrid apartment or directed a film in a long time. It is simply too painful for him to sit on a chair or mix in a crowd for any length of time.
In preparation for a historic revival of his most cited film he meets up with his former leading actor Alberto Crespo (Asier Exteandia), whom he had criticized decades before as inept. This reunion changes the course of Salvador's life as he works through his pain to revisit the past and regain joy in his life.
There are repeated flashbacks to Salvador's childhood in the Extremadura: a whitewashed and tiled cave house, an energetic mother (Penélope Cruz), the first inkling of sexual attachment (here too is the theme, the glory of an awakening mixed with pain and the onset of a sudden fever).
Banderas plays Salvador with an expertise based in tranquility. Remarkable in this film, which Almódovar hints as being autobiographical to a certain degree, is the unhurried experience of Salvador's day. The tempo is as quiet and measured as life itself, and it seems as if we outsiders are sitting in his kitchen as a part of the family.
An Almódovar film is always a guarantee of visual opulence, and this time the sensual impulses are everywhere. Salvador's apartment is a showcase of artistic ecstasy and optical illusion, right down to the ceramic teacups placed in front of the sky blue backsplash in the kitchen. Life in gray and stringent Hamburg feels downright dingy in comparison. (Ann Gebauer-Thompson)