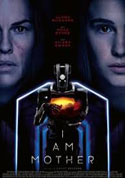 Opening 22 Aug 2019
Directed by: Grant Sputore
Writing credits: Michael Lloyd Green, Grant Sputore
Principal actors: Luke Hawker, Rose Byrne, Maddie Lenton, Clara Rugaard, Hilary Swank
I Am Mother is a darkly intense sci-fi thriller. It is partly a coming-of-age story, partly a philosophical discourse on humanity, and partly a look at the meaning of being human and the bonds that hold people, and especially families, together. But, above all, it is an intriguing and exciting tale that will keep you on the edge of your seat.
All of humankind is wiped out on earth after an apocalyptic event. A robot named Mother (Luke Hawker, robot/Rose Byrne, voice), whose mission it is to repopulate (or reboot?) the world, grows a human embryo in an automated underground bunker. She raises her to teenage-hood and teaches Daughter (Clara Rugaard), as she is known, everything about life. The bond between them is loving and strong with Mother being Daughter's entire world.
However, as she grows up, Daughter starts to become curious about the outside world and then the pair's relationship becomes threatened when a strange Woman (Hilary Swank), covered in blood, turns up and calls into question everything between Mother and Daughter.
Beautifully acted by the up-and-coming, young Danish actress Clara Rugaard and Oscar® winner Hilary Swank, with wonderfully expressive movements by the robot, the film is tense and exciting, shot through with a series of unexpected twists. Most of the scenes take place inside the bunker but the few outdoor shots are stunning with their depiction of a beautiful and moody wasteland.
There are one or two criticisms that could be levelled at the film. It starts out a bit slow and then packs everything into the last half, meaning that some of the character development could be seen as a little superficial and the plot is not entirely clear. But overall, it's a moving and interesting film with a lot to say about humanity and the role technology is increasingly playing in all our lives. The characters are appealing and the sets are convincing.
The film doesn't offer up all its answers at once and you'll probably still be musing over the powerful and enigmatic ending long after the credits have rolled. (Susan Hickford)