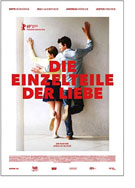 Die Einzelteile der Liebe (The Components of Love)
Germany 2019
Opening 22 Aug 2019
Directed by: Miriam Bliese
Writing credits: Miriam Bliese
Principal actors: Birte Schnöink, Ole Lagerpusch, Andreas Döhler, Justus Fischer, Brigitte Zeh
The very pregnant Sophie (Birte Schnöink) meets Georg (Ole Lagerpusch). They fall in love and move in together, with Georg taking on the role of father to baby Jakob (Justus Fischer). This patchwork family tries to cope with all the normal issues and conflicts of family life and raising a child, including money problems, how to share the workload, and how to organize childcare – all compounded by the fact that Georg is not the biological father. The couple also struggle to find the time for love and passion in their busy lives.
The film explores the relationship between the couple and the difficulties of living together in the modern world. It creates a stark picture of how the words we say and the words left unsaid can take on their own meaning and muddy shared understanding. When Georg and Sophie separate and Sophie starts a new relationship with Fred (Andreas Döhler), a plethora of new issues arise about custody of Jakob.
The film moves backwards and forwards in time to tell its story, lessening the tension of the storyline and leaving the viewer free to contemplate the ups and downs of everyday life shot through with an almost existential mood. Set in an impressive apartment block in Berlin, the huge, anonymous concrete building echoes the sense of loneliness and abandonment that people can feel in the world. Sequences of the surroundings – the local train, municipal trucks and tow trucks passing by in the bleak depths of winter add to this sense of isolated everyday life. The film is crafted lovingly with an almost still-life feel to some of its lingering shots of people set against stark concrete walls and the debris of everyday life.
The film is about the relationships between people and the patchwork qualities that characterize so many modern families. However, ultimately it is also about the power of love and relationships. The generally somber mood is punctuated with moments of joy and lightness, and scenes that lift the spirits. The characters are very appealing and believable. Overall, Die Einzelteile der Liebe is moody and contemplative and does provide some answers to the question of whether love can really conquer it all. (Susan Hickford)