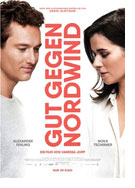 Opening 12 Sep 2019
Directed by: Vanessa Jopp
Writing credits: Jane Ainscough
Principal actors: Ulrich Thomsen, Alexander Fehling, Nora Tschirner, Claudia Eisinger, Lisa Tomaschewsky
Leo Leike (Alexander Fehling) is a good-looking, young, university professor of linguistics. He and his sister are best friends, while the relationship with his girlfriend Marlene alternates between separation and marriage plans. Emma Rothner (Nora Tschirner) is married to Bernhard. She is a pianist and music teacher; he is an orchestra conductor. He has brought two children into the marriage: Fiona, age 16 and Jonas, age 11. Emma interacts well with the children.
Emma sends Leo an email message by mistake and thus their correspondence begins. They become intimate pen pals, in spite of the fact that their first words were "passive aggressive idiot" (Emma to Leo). As strangers without any connection or responsibility, they find it easy to share problems, opinions, and emotions. They describe their situation as a "virtual friendship." Leo says that "Emmi (his nickname for her) is my flight from reality." This continues for more than six months and, 70 minutes into the film, they imagine meeting each other in person, but then Marlene reappears in the picture; Leo's mother is ill; Emma hesitates. Would they recognize each other in a crowded event, at the bus stop, in the super market?
Based on the book by Daniel Glattauer, my colleague Jan said that the book is very funny and you never "see" them, as they also never see each other. In the film, of course, we "see" Leo in his daily life, interacting, sometimes unsuccessfully, with his girlfriend Marlene, and, very well, with his sister and her family. Then 45 minutes into the film we "see" Emma and meet her family. The film version is serious, not funny, a love story in the making. Will they leave all behind and connect in real life?
Virtual pen pals via the internet and mobile phones are part of this 21st century. Leo and Emma are constantly reading their messages, like all the passengers in my bus are, when I am on my way to the movies every day. They say they want to meet/see each other, but why do they never suggest Skype? Filmed on the beaches of Sylt and around Düsseldorf, the scenery is wonderful and adds to the impressions. Perhaps 122 minutes are about 30 minutes too long, but the German actors are excellent and we can hope to see them again soon. The title translates to "Good against the northern wind" referring to Leo's suggestion that Emma should sleep on the other end of the bed if she insists on keeping the windows open at night.
P.S. To read the book "Gut gegen Nordwind" in English, its title is "Love Virtually". (Becky Tan)