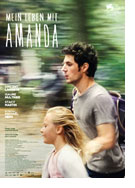 Mein Leben mit Amanda (Amanda)
France 2018
Opening 12 Sep 2019
Directed by: Mikhaël Hers
Writing credits: Mikhaël Hers, Maud Amerline
Principal actors: Vincent Lacoste, Stacy Martin, Isaure Multrier, Ophelia Kolb
Little 7-year-old Amanda (Isaure Multrier) is a happy child, living with her mother Sandrine in Paris, France. When Sandrine is busy working, her 24-year-old brother David collects Amanda from school and helps whenever possible. They are close, having an easy and relaxed relationship with each other. Their mother lives in England; for the last ten years there has been no contact. But now Sandrine (Ophélia Kolb) decides that it is time for Amanda to get to know her grandmother. She takes the forthcoming tennis tournament as an excuse to visit London and hopes that David (Vincent Lacoste) will join them.
Life turns out differently. One summer evening, when a group of friends is meeting for a picnic in the park, Sandrine falls victim to a brutal terror attack and gets killed. By the time David arrives at the park, he witnesses a gruesome scene.
Overwhelmed with sadness he returns to the apartment and to the sleeping Amanda, having to explain the unexplainable to the innocent child. There is talk about "guardianship" for Amanda as David is her only near relative in town. Dazed by his mourning he is ill-prepared for any life-changing decisions (brilliant performance by shooting star Vincent Lacoste).
For Amanda it is a constant struggle just to cope with daily life, with confusing and changing circumstances. Still, there are times when she bravely consoles a grieving David just as much as he tries to comfort her in turn. Isaure Multrier's fine acting is amazing for such a young girl.
Director Mikhaël Hers (excellent script together with Maud Amerline) reflects the violence of our time with honesty but also with restraint. The main theme is the family, is love and responsibility. This film opens up many questions and will hold you engaged for more than two hours. (Birgit Schrumpf)