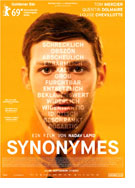 Opening 5 Sep 2019
Directed by: Nadav Lapid
Writing credits: Nadav Lapid, Haim Lapid
Principal actors: Tom Mercier, Quentin Dolmaire, Louise Chevillotte, Uria Hayik, Olivier Loustau
I know some people will claim that I just didn't "get it." If only I would think back (way back to high school) and recollect reading Candide, I would see the true brilliance of Synonymes. After all, the lead character of Synonymes, Yoav (Tom Mercier), has the same childish naiveté and slightly mad behavior as Candide. This is just a device to show the farce that is society. Let me just put this out there. I get the connection and I still find Synonymes pretentious, the character of Yoav exasperating, and the film as a whole lacking in depth of feeling and meaning.
I'm sure that the International jury of the Berlinale thought that they were highlighting something truly unique. There were too many film festival favorites here to ignore. It's an Israeli film where the protagonist is an ex-soldier who is disgusted by his country and refuses to speak Hebrew any more. There's criticism of nationalism, Israeli/Jewish identity, integration, and even a hint of a ménage á trois stirred into the mix. The fact that the whole thing is an immigrant story is just the cherry on top after all of that other stuff. I'll admit, on paper that certainly sounds exciting, but let me let you down light here…it isn't as good as it sounds.
Instead of a compelling story of an immigrant discovering that substituting one hyper-nationalist society for another is not going to fix anything, we get a man walking down a street mumbling French synonyms to himself like a crazy person. If you look at each scene like a vignette, like an absurd scene in Candide, and go in expecting it all to be ridiculous, you might just enjoy this film. Be aware though that the following examples are the level of societal examination you can expect: a man singling "La Marseillaise" baldy in order for the audience to recognize how nationalistic it is, a man telling a bunch of people standing in the rain at the Israeli embassy that the borders are now open in order for the audience to recognize the plight of immigrants and the cruelty of border restrictions, and a Jewish Frenchman going around antagonizing people at bars and subways claiming he's trying to root out anti-Semitism but demonstrating to the audience the cultural imperialism of the Israeli state. This is some groundbreaking stuff, you guys. Now imagine more of this level of cultural criticism for 123 minutes.
Maybe all of that sounds like a good film to you. Maybe it has been too many years since I read Voltaire. Or maybe, just maybe, this is a puerile film pretending to be a high-minded farce and is really just a painfully derivative film and a waste of two hours. There is, after all, nothing better than a film about a privileged man with everything handed to him in life walking around in disgust of the world. It is so refreshing to see it once again, the story of the ages, and I don't know why I should be surprised that this was the choice to win the Golden Bear at the 2019 Berlinale Film Festival. (Rose Finlay)