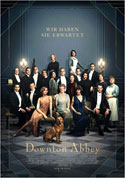 Opening 19 Sep 2019
Directed by: Michael Engler
Writing credits: Julian Fellowes
Principal actors: Michelle Dockery, Matthew Goode, Tuppence Middleton, Maggie Smith, Elizabeth McGovern
The year is 1927, and in Downton Abbey a royal visit is announced: King George V and Queen Mary will be spending a night at the Abbey. There will be a parade, a series of festive dinners and a final ball at a neighboring estate.
The level of activity upstairs and down rises to a feverish pitch, as grooms and maids vie for standing and the village grocer considers it the honor of his life to plan provisioning with the cook. The characters we have come to rely upon are reassuringly there, reliably carrying on. Everyone's favorite Dowager Countess Grantham (Maggie Smith) spars on with her extended family, ever ironic, never sarcastic, for as she says 'sarcasm is the lowest form of humor'. As the big day approaches it becomes evident that the women all round, both upstairs and down, are actually pulling the strings and directing matters to a smooth outcome.
The overwhelming devotion to authentic detail is even more apparent on the wide screen than on television. Filmed for the most part in the rooms and the grounds of Highclere Castle in County Durham, the camera captures the fine details of the salons, the private rooms, the elaborate party dresses (it is the era of the flapper) and the place settings at the tables in extraordinary clarity.
Far in the background are economic and military concerns of the age, yet a few pressing issues do surface. There is the ongoing theme of the Irish question, embodied by son-in-law Tom (Allen Leech). Daughter Lady Mary (Michelle Dockery) ruminates from time to time on the future of the Abbey and whether the whole Downton life style is perhaps a relic of the past. And the stealth and panic of a gay relationship is once again a theme, where the hope of tolerance for gays is seen as a wish for a far-off future.
The film never leaves its emotional comfort zone, but it works so well within its own defined boundaries that it deserves five stars for its own version of perfection. (Ann Gebauer-Thompson)