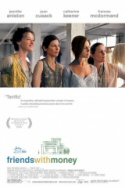 Opening 7 Sep 2006
Directed by: Nicole Holofcener
Writing credits: Nicole Holofcener
Principal actors: Jennifer Aniston, Frances McDormand, Joan Cusack, Catherine Keener, Greg Germann
When I heard about Frances McDormand, Catherine Keener, Joan Cusack and Jennifer Aniston all taking part in Nicole Holofcener's film, I anticipated a film full of sexy women with fantastic sense of humor. However, Friends with Money gave me a headache instead of the levity I have experienced after watching McDormand, Keener and Cusack in other films due to the comic takes that let them shine.  In what can only be taken as Holofcener's effort to show how Los Angeles women deal with or fail to deal with their midlife crisis we meet three spoiled women uncomfortable with their good luck and one woman a victim of her own devices. The film's conceit is that all women approaching midlife are unhappy in their own way and for those lucky enough to have money and social status it just shows less or less brutally.
Franny (Cusack) and Matt (Greg Germann) are happily married and have the kind of money that makes work irrelevant. They tend to fight about artificial things like Matt's preference to spoil their daughter with nice things and Franny's stricter approach.  Christine (Keener) and David (Jason Isaacs) are a successful screenwriting team. Married with one child they have not had sex in a year but they think building an additional floor to enhance the view from their bedroom will save them. Jane (McDormand) and Aaron (Simon McBurney) also have one son and run a very successful women's designer clothing label. Olivia (Aniston) is the fourth member of the quartet and she is pining away for her ex boyfriend who is now married to someone else. She quit her job at an elite private high school because her students harassed her about driving a crappy car. Now she cleans houses for a living. We cringe when she ends up having a non-relationship with Mike (Scott Cann). He may be a personal trainer today but if he plays his cards right, this social parasite just might be the next restaurant, movie theatre, hotel, club mogul in a few years.
After the film runs its course, the only things that are clear are 1) sometimes marriage is terminally ill and you might as well pull the plug; 2) good things come to those who wait; 3) not all men who think about their clothes instead of just throwing them on are gay.
Let's give the director credit for trying a difficult topic. Unfortunately she just might ensure that no one else touches this important topic with a ten-foot pole. (Rita Pearson Schwandt)