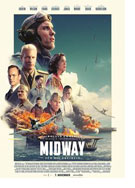 Midway – Für die Freiheit (Midway)
China/U.S.A. 2019
Opening 7 Nov 2019
Directed by: Roland Emmerich
Writing credits: Wes Tooke
Principal actors: Ed Skrein, Patrick Wilson, Woody Harrelson, Luke Evans, Mandy Moore
In 1942, the United States was scrambling to secure their position in the Pacific after the devastating attack on Pearl Harbor. The Japanese hoped to press their advantage by leading the American forces into a trap and taking over the strategic American naval facility at the Midway Islands. Midway follows the stories of the sailors, pilots, and officers whose bravery and ingenuity led to one of the most important victories in the Pacific Theater during World War II.
The foremost difficulty of making a period war drama with a large ensemble is that the script must allow for not only the historical context, but also an appropriate amount of characterization. Without the history, audiences might not understand the importance of the events occurring, and without characterization, they might not have enough emotional connection to make the loss of life impactful. The fundamental flaw of Midway is that its handling of both of these aspects was sloppy. In order to give context, the film jumps between Japan and America, includes pre-war politics along with Pearl Harbor and the Doolittle Raid, while trying to introduce a wide variety of characters that each had small, but important roles during the finale, the Battle of Midway. The result is a film bogged down with too much backstory, too many air battles, and too little character development. Midway is at once too much and too little; it fails to ever truly honor the momentous event in history it depicts.
It is also important to note that there are some anomalous thematic choices in regards to the Japanese forces during the war. There is significant focus on several Japanese admirals, giving a particularly sympathetic examination of Admiral Yamamoto who oversaw the attack on Pearl Harbor and the Battle of Midway. Meanwhile in the course of the film, audiences watch American sailors die terribly at Pearl Harbor, American prisoners of war being brutally murdered, and Chinese citizens bombed and tortured under Japanese occupation. It remains unknown what the filmmakers ultimately wanted to express with their choice to include such incongruous scenes. The film ends with a dedication to both Japanese and American sailors. It is an odd choice to sympathetically portray a historical figure who led a preemptive attack that killed thousands, to say the least. However, to dedicate a film to sailors of the Imperial Japanese Navy which helped perpetrate war crimes leading to the deaths of millions is beyond the pale.
Midway is, to put it mildly, a mess of a film which does little to properly honor the actions of the many men who died during the early battles of the Pacific. With its over-the-top action scenes, undeveloped stock characters, and underwhelming examination of Japanese actions, there is little to recommend it. Perhaps Roland Emmerich should stick to the disaster films he is known for and in the future leave historically nuanced topics to more skilled directors. (Rose Finlay)