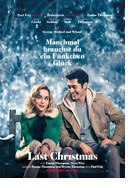 Opening 14 Nov 2019
Directed by: Paul Feig
Writing credits: Emma Thompson, Greg Wise, Bryony Kimmings
Principal actors: Emilia Clarke, Henry Golding, Michelle Yeoh, Emma Thompson, Madison Ingoldsby
This is a movie with many surprises and a tribute to the musical work of George Michael whose songs give a special touch. Kate (Emilia Clarke), a vulgar and chaotic girl, leads a wild life. Daughter of Jugoslav emigrants, mother Adelia (Emma Thompson), a former singer, suffers from anti-Semitic feelings. The lesbian sister who is not accepted and the absent father complete the picture of her life. For a living, while unable to stabilize as a singer, she works at a store that sells Christmas products, most of which are imported from China. Her boss (Michele Yeoh) is very patient with her because she is a good saleswoman.
One day, while cleaning the shop window, she watches a man Tom (Henry Golding), who always looks up at the sky. After a few days, she leaves the store and approaches him to find out why. She learns that Tom is an artist, leaves his cell phone in the closet and helps out at an institution that houses beggars doing charity. These behaviors make Kate stunned. Her life, attitudes, and feelings change completely when she discovers that their meetings are apparitions. (Geysa Wiemann)


Second Opinion

Kate (Emilia Clarke) seems to be at loss trying to take control of her life at age 26. She lives at home with her parents and her sister Marta, which is not her idea of the perfect solution, but she has a roof over her head. She dreams of a role as a singer in the musical Frozen and goes to an audition. Until then she must be satisfied to work, all dressed up as an elf, in a Christmas specialty shop. Her boss and owner of the shop, "Santa" (Michelle Yeoh), is Chinese with strict expectations of work ethics. Both Kate and her boss attract boyfriends at the same time. Santa's boyfriend Paul learns some Chinese to impress her. Kate's boyfriend Tom (Henry Golding) is always around for emotional support saying, "Simply being human is difficult" and "Everyone is responsible for his/her own accomplishments." He shows her his secret garden, introduces her to a center for the homeless, where she helps out, and teaches her ice skating for her Frozen audition. Finally, 70 minutes into the film: the first kiss!
The plot seems straight and logical: lonely girl finds partner and shines. However, it's not that simple. Kate has musical talent; the film opens with Kate as a young girl singing a solo in a church choir. Although Tom is helpful, he is also mysterious, secretive, without a mobile phone and or any real address, sometimes disappearing with no possibilities for communication. Kate also has a secret.
This is a feel-good holiday film with wonderful night scenes of London brightly decorated for the festivities. A Joker figure pops up occasionally. Think about George Michael's famous 1984 song: "Last Christmas, I gave you my heart. But the very next day, you gave it away. Well, this year, to save me from tears, I'll give it to someone special." I would enjoy seeing it again in English (instead of German), because I imagine that the various British accents add to the overall impressions. There are 38 songs with at least eight performed by George Michael. (Becky Tan)