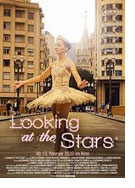 Looking at the Stars
Brazil 2016
Opening 13 Feb 2020
Directed by: Alexandre Peralta
Writing credits: Melissa Rebelo Kerezsi, Alexandre Peralta
Principal actors: Cesar Albuquerque, Sandra Macedo, Thalia Macedo, Geyza Pereira
This documentary about Fernanda Bianchini's Association of Ballet and Art for Blind People (AFB), the only worldwide ballet school for the blind, was originally meant to become a short to introduce the organization located in São Paulo. During his research Alexandre Peralta gathered so much material he wanted to include that it morphed into a full feature film.
Dance is an art form commonly learned through observation. In 1995 Fernanda Bianchini created a unique method of teaching classical dance to blind children through touch and repetition. Eventually AFB became an inclusive dance center geared to young people from low- and moderate-income families. Today it teaches dancers with various disabilities. They do give performances but are mainly supported by donations.
The film focuses mostly on two members of the school. Both became blind at a very young age. Geysa, one of the founder's former students, has become a prima ballerina and teaches at the school. The 15-year old Thalia studied with Geysa. We learn about their biographies, their everyday lives and their difficulties. But they also share what it means to them to dance, the joy they feel to express themselves and being able to show another facet of themselves that only comes to light when they dance. They are absolutely delightful and lovely and a pleasure to watch and listen to.
Onscreen-titles meant to mark four chapters named for the main protagonists (Fernanda, Geysa, Thalia and choreographer Cesar) do not help with orientation and appear rather as if accidentally left on screen. That the film wasn't planned with a long format in mind shows; there is no storyline or structure and some footage seemed to be included for the sake of stretching the film to feature length. Still, I did enjoy watching the film, and think it is important we learn what is possible when we reach "high'" when it comes to "inclusion". (Carola A)