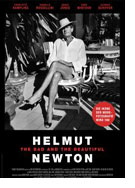 Helmut Newton - The Bad and the Beautiful
U.S.A. 2020
Opening 9 Jul 2020
Directed by: Gero von Boehm
Writing credits:

Director Gero von Boehm presents a detailed 90 minutes about the photographer Helmut Newton, whose works you will immediately recognize. We learn that Newton was Jewish, born 1920 in Berlin. A failure in high school, he began studies with a well-known photographer named Yva (who later died in a concentration camp). In 1938 he left Germany for Singapore and eventually settled in Melbourne, where, after many stops and starts, he settled into his main interest since childhood: photography. He specialized in photos of people, concentrating on fashion models and eventually worked for Vogue and other well-known magazines all around the world. After a hugely successful career and much recognition, he died in a car accident in 2004 in Los Angeles.
Newton's photos are mostly black and white, often erotic, even "perverse" as Newton himself commented. He presents models smoking, perhaps standing beside a cat or a chicken, and wearing very little clothing, which is unexpected in a photo that is supposed to feature fashion. There are scenes of Newton commenting about his profession, but the main impressions come from those with whom he had worked: e.g., Grace Jones, Isabella Rossellini ("He sees women as a sexual object and they are attracted and resent that and it makes them vulnerable."), Charlotte Rampling ("He needs provocation." "There is real beauty there—not just naked women."), his Australian wife June who also worked in the field of photography, Marianne Faithful, Claudia Schiffer as well as many models and colleagues. This film will make an impression, not only on those of us interested in art and photography and its development from the 1950-60s, but also for the chance to become educated about an important figure in history who was born exactly 100 years ago on October 31. (Becky Tan)


Second Opinion

This documentary marks 100 years since Helmut Newton's birth in Berlin on October 31st, 1920. Through the catalog of images and interviews we come to understand Helmut Newton's vision of women through his lens. The erotic images that he captured have appeared in art galleries, magazines, and volumes of books dedicated to the female form. The influence from his past during Nazi Germany will never fully be understood but it is clear he had a style that remained true from a very young age.
These images of his life and those he photographed brings us a complicated man who may or may not have promoted the female image in a positive light. But perhaps through the shadows of his famous works, we can understand his view. Whether you believe Helmut Newton was elevating or degrading the female form his legacy will remain as one of the greatest photographers of our time. You should listen to him, his wife, and his many subjects speak about what they believe his legacy is. (Christine Riney)