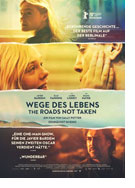 Wege des Lebens - The Roads Not Taken (The Roads Not Taken)
U.K./Sweden/U.S.A./Poland/Spain 2020
Opening 13 Aug 2020
Directed by: Sally Potter
Writing credits: Sally Potter
Principal actors: Javier Bardem, Elle Fanning, Branka Katic, Salma Hayek, Dimitri Andreas
The Roads Not Taken portrays a day in the life of Leo (Javier Bardem), a Mexican immigrant and writer. However, his day is not normal since Leo is suffering from dementia. As the film begins, we see Molly, his daughter (Elle Fanning), desperately trying to reach her father from the car, and when she arrives at the shabby New York apartment, no one opens the door. This frantic pace continues the whole day as Molly painstakingly but lovingly maneuvers her father to various medical appointments. At the same time, poor Molly is dealing with calls from her employer informing her that she has lost a long sought-after promotion because she didn't show up.
During their chaotic day, Leo's hallucinations take him on "side-trips" to the "roads not taken". First to Mexico, to his childhood sweetheart, Dolores (Salma Hayek) and then to a Grecian Island, where he tries to finish his book. Very fitting is the cinematographer's (Robbie Ryan's) choice of sights and sounds that prompt Leo's travels to these "roads not taken". The dull, drab walls of Leo's noisy New York apartment contrast expertly with the peaceful and sun-dried colors of Mexico as well as with the blue tones and soft sounds of the Mediterranean surf.
Sally Potter, the film's well-known English director and writer, has created a very personal tale which is partially due to her experience of looking after her younger brother who suffered from dementia for two years. Perhaps her film is even too personal or subjective as the film occasionally drifts into the melodramatic. Although she claims it is not about her brother, her experience definitely has a strong influence on what she writes. Dementia is a very delicate, even dangerous or exploitative film topic and not something for the mainstream crowd, which in part may explain some of its low ratings. However, it is not only the subject matter, but also the execution of her film that lowers its appeal. The three flashbacks, which zoom a bit too sporadically in and out between the present and past, make it sometimes difficult to follow the narration. In addition, we aren't sure if they really happened (at least in part) or are they just an imaginary "road not taken". This uncertainty could heighten the suspense, but for some it will be more tedious to follow.
Potter's characters are also somewhat underdeveloped. For example, we learn nothing about Molly's past and nothing about the father-daughter relationship before Leo's dementia sets in. We only know that Leo abandoned his wife, Rita (Laura Linney) and baby (Molly), because of Molly's crying while he was trying to write. We also learn nothing about Molly's life outside of her current interaction with her father, but thankfully it is exactly this present-day interaction between Leo and Molly plus the excellent cinematography that rescue Potter's film from becoming a total disappointment. Elle as Molly, radiating empathy and sincerity throughout her performance, leads us into the painful depths and tragedy of having a loved one suffering from dementia. We also become aware that she, too, will soon have to choose which road to take concerning her father's care and her job. As Elle's counterpart, Javier convincingly glides from one time, place and character to the other.
Although the topic, dementia, is a difficult one and the script sometimes erratic, this film is worthwhile, if not just because of the stars' brilliant performances. (Karen Schollemann)