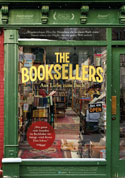 The Booksellers - Aus Liebe zum Buch (The Booksellers)
U.S.A. 2019
Opening 29 Oct 2020
Directed by: D.W. Young
Writing credits:

Attention, book lovers! This documentary will take you into the world of antiquarian, rare and collectible books and the eccentric, fascinating, intellectual and obsessed hunters and gatherers who are part of this world. At times nostalgic and melancholic, it takes us to the New York Book Fair at the Park Avenue Armory, and into the antiquarian and used bookstores which have unfortunately become fewer and fewer. Argosy and Strand's are still around (Argosy, New York's oldest independent bookstore, can only afford its Midtown location, because the six-storey building is owned by the three daughters of the owner), but the struggle first against the big bookseller chains like Barnes & Noble (now themselves ailing) and then against new technologies in digital times on the book market has wiped out many of the small bookstores. However, here we see the true bibliophiles, who never give up chasing their next big find. We get a glimpse of the auctioneer world of books, quite different from the world of fine art. And yes, the auctioneer, quite the cliché, is clad in tweed and sports an old-fashioned waxed mustache in Hercule Poirot style. And we visit a bookseller in his warehouse in New Jersey, where 300,000 volumes of rare books are stocked next to taxidermied sea gulls and a masonic throne.
An important point made is that, whatever the collection, no matter how many first, second or third editions or rarities, it is always unique, and the goal is to archive it as such, so that after the death of the collector, it can be made available to a broader public.
It is encouraging to see that many women are part of this fascinating world, getting more recognition than pioneers Leona Rostenberg and Madeleine B. Stern who, in their time, were denied membership at The Grolier Club, North America's oldest bibliophilic club. Equally encouraging it is to see that also a 'younger' (not yet white-haired) generation is developing, young readers and collectors, whose love for books and their role in preserving cultural knowledge and human history is undaunted.
Although this documentary is set in the New York book world, it is obvious that it can be translated into any other country. A must-see for any bibliophile. (Ulrike Lemke)


Second Opinion

Booksellers sell books in bookstores and "transmit the ability to appreciate books," but what is the future of the culture of books, considering that "we owe literature who and what we are?" In New York City in the 1950s there were 368 bookstores; today there are only 79. We visit several NYC stores, including the traditional Strand Book Store, which is the last of the original 48 bookstores situated on 4th Avenue. It is now facing bankruptcy, due to the Covid 19 virus. We see Argosy Book Store, the oldest in Manhattan, founded in 1925, which specializes in antique books and first editions. A first edition of Ian Flemings Casino Royale still brings a high price. We see a first edition of Edgar Allen Poe's poem "Tamerlane" from 1827. We learn how books were produced with "dust" jackets.
What is the influence of the internet or large chain bookstores on buying books? Today many people no longer browse for hours, comparing and looking for the perfect book. They walk into a chain bookstore, pick up a bestseller and leave again. Nowadays collectors of old or first editions have less trouble finding a "rare" book. Even if only a few first editions are available, one can find them quickly online. The internet has flushed out the word "rare"; seldom or few editions can be found online without having to search in bookstores. And then there is Kindle and online reading. The film reminds us of the Nazis burning books in the 1930s. Throughout this excellent and informative film 48 bookstore owners, readers, authors and other experts report on the situation of bookstores in New York City, which also mirrors similar difficulties in many other parts of the world. Naturally, as a dedicated reader, I will always hold on to books, read books, appreciate books. My daughter-in-law just published her ninth book on Amazon. Will it be sold in a bookstore? A good question. (Becky Tan)