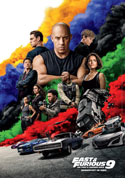 Opening 15 Jul 2021
Directed by: Justin Lin
Writing credits: Daniel Casey, Justin Lin, Alfredo Botello , Daniel Casey , Gary Scott Thompson
Principal actors: Vin Diesel, Michelle Rodriguez, Jordana Brewster, Tyrese Gibson, Nathalie Emmanuel
Dominic Toretto (Vin Diesel) is enjoying the quiet countryside with his small son Brian and Letty (Michelle Rodriquez), his girlfriend (but not the mother of Brian). This comforting atmosphere is soon over, when Ramsey, Roman, and Taj arrive to announce that Mr. Nobody (Kurt Russell) and Cipher, the cyber terminator (Charlize Theron) have crashed in the jungle of Middle America. Now Dom must fight contract killers in order to protect his loved ones. Another threat comes from his long-lost brother Jakob Toretto (who premieres in this FF film, played by John Cena). Never fear: Dom will succeed as, "it's not a question of showing strength, but greatness." Back scenes about their childhood help tie the story together. As Vin Diesel says, "In order to be the father he wants to be for Brian, Dom has to delve into the past." We learn that their father Jack Toretto had been killed 1989 in a sports car race. Was this really an accident? True to the film's title, we soon get "fast" and "furious" with crashes, burning, shooting, running, helicopters, planes, and motorcycles. Ramsey (Nathalie Emmanuel) is an expert female computer hacker. Dom and Jakob's sister, Mia Toretto (Jordana Brewster), can read computer codes. In London we meet Queenie (Helen Mirren), (no relation to the royal family, but still pretty majestic). How about racing your car into outer space? How about a powerful magnet that rips guns out of one's hands?
Fans of The Fast and the Furious will happily recognize characters who have come and gone from the last eight versions, starting with the first film in 2001, starring Vin Diesel. He wasn't around for the second or third version, but then jumped back in and is still going strong for us now. Sung Kang has "come back to life" in the role of Han. Filmed in London, Tbilisi in Georgia, Edinburgh, Thailand and Los Angeles, film followers will enjoy the action, supported by 16 songs, including rap versions, as well as reggae singer Ozuna. Newcomers to F9 might still be wondering what that was all about and find it much too long with 143 minutes. No matter: F10 is already on its way, soon to take off on a new race in the cinema for our enjoyment. (Becky Tan)


Second Opinion

The movie starts off with a race car scene from 1989 in which Dominic Toretto's (Vin Diesel) father is in the last car race of the season. Dom's brother Jakob (John Cena) is working on his father's car during rounds. The nemesis of the father hits the car which makes it flip and the car catches fire and explodes. Both Dom and Jakob mourn their father's death but decide to part ways. Dom lives off the grid in seclusion with his son Brian and his wife Letty (Michelle Rodriguez) and is technically retired. His old friends Roman (Tyrese Gibson), Tej (Ludacris) and Ramsey (Nathalie Emmanuel) find him to discuss news about Mr. nobody. He has helped Dom multiple times in the past but more importantly some secret agents have freed his nemesis Cipher. Cipher was responsible for the death of his mother of his son. The team comes together once again to fight these secret agents who want to obtain a special weapon to control the world. Much to their surprise Dom finds his own brother has joined the wrong team.
All in all, I would recommend this movie for those addicted to the Fast and Furious franchise. It is always nice to have the back stories of the characters in the previous films to fill in the gaps. The development of the characters provides a stronger plotline which improves the overall level of the Fast and Furious series. Of course, the film includes fast paced-action with high speed cars and crazy stunts which we all love. Personally, it gives me the feeling that I am in a Fast and Furious movie as the adrenaline kicks in. The music was well done and supported the scenes nicely. I loved the new technology they used such as giant magnets which enabled them to pull off crazy car chases filled with surprises. So, for all action and Fast and Furious fans, this movie is a great. However, if you have not seen some of the other movies I would not recommend it since it is not a movie that can stand on its own. (Adrian Schoeneshoefer)