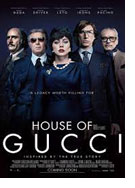 Opening 2 Dec 2021
Directed by: Ridley Scott
Writing credits: Becky Johnston, Roberto Bentivegna, Sara Gay Forden
Principal actors: Lady Gaga, Adam Driver, Al Pacino, Jeremy Irons, Jared Leto
Adapted from the nonfiction book The House of Gucci: A Sensational Story of Murder, Madness, Glamour, and Greed by journalist Sara Gay Forden, this star-studded film directed by Ridley Scott seemed to have everything going for it. And while it does have its moments, mostly through some truly memorable performances, the film never seems to find its feet throughout the two hour plus tale.
Chronicling the doomed relationship of Patrizia Reggiani (Lady Gaga) and Maurizio Gucci (Adam Driver), from their chance meeting at a party in the 70s to their divorce in 1994 and subsequent assassination of her ex-husband a year later, we also follow the business dealings of the Gucci fashion house and the family rivalries that erupt, in large part to Patrizia's greedy machinations. Gaga shows her depth as an actress in the role, alongside Driver's understated yet commanding presence. At times they really do seem perfectly cast together.
While Driver and Gaga are the main event, the portrayal of Aldo Gucci (Al Pacino), Maurizio's uncle and his son, Paolo Gucci (Jared Leto), the family misfit, give the film its more comedic moments. The pair play up the camp and melodrama with exaggerated sing-songy Italian accents that are laugh out loud funny more often than they are probably supposed to be.
All this against Ridley Scott's aim to include themes of greed, power, and excess in this true crime biography make for a whiplash of competing forces throughout the movie. While these dueling motives often clash, the scenes of grandeur and lavish excess often provide a nice diversion from such glaring hurdles. (Adelina Gonzales)