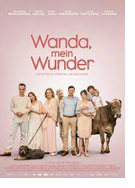 Wanda, mein Wunder (My Wonderful Wanda)
Switzerland 2020
Opening 6 Jan 2022
Directed by: Bettina Oberli
Writing credits: Cooky Ziesche, Bettina Oberli, Thomas Ritter
Principal actors: Agnieszka Grochowska, Marthe Keller, André Jung, Birgit Minichmayr, Jacob Matschenz
Wanda (Agnieszka Grochowska) is the caregiver of Josef (André Jung), who must keep to his bed. She is 35 years old, and comes from Poland, where she has left her two small sons, Tomasz (Bruno Rajski) and Jakub (Iwo Rajski), in the care of her own parents. In Switzerland she lives in the basement of a big family house, along with Josef's wife, Elsa (Marthe Keller), and their grown son Gregi (Jacob Matschenz). Their daughter Sophie (Birgit Minichmayr) visits with her husband Manfred (Anatole Taubman). Eventually, the cleaning lady quits; Wanda is persuaded to take over these additional responsibilities for a higher salary, making her even more essential to the family. AND Josef secretly pays her well to sleep with him—all just income for the good of the Polish family. Naturally, this is soon revealed and Elsa, accompanied by Gregi and Sophie, demands an explanation. The situation explodes, and Wanda returns to Poland. Naturally, she returns, and life continues as before. But does it? She is pregnant and Josef is the father although Elsa had convinced him that he couldn't have more children.
My Wonderful Wanda presents excellent possibilities to sort through problems from different aspects. Josef is proud to know that he can still "do" it. Elsa is considering divorce. Perhaps Sophie and Manfred should be the parents. How about Gregi? Will Wanda give up the child? How about 100,000 Euros to take over the new baby (who is soon born)? But they are Catholic and anyway, "the Poles only want our money."
Filmed on the shores of a beautiful lake, the participants sit on the shores or take out on a boat. Gregi, designated to become the head of the family company, loves to observe birds, and can copy each bird whistle perfectly. Josef celebrates his 70th birthday with many guests and gradually leaves his bed to become more independent. Son-in-law Manfred thinks he knows all the answers. Wanda's family arrives, unexpectedly, with its own opinions, reviving up the controversy, which was supposedly already solved. And then there is the cow.
This is not a film for short-term entertainment, but one to think about, discuss, and consider one's own solutions to problems. The film is divided into three parts, each beginning with Wanda getting off the bus out of Poland; it ends with a short epilogue. My Wonderful Wanda was filmed in Warsaw, Poland, and Stäfa and Horgen in Switzerland. It played in eight film festivals, including the 2020 Tribeca Film Festival. It opened the 2020 Zurich Film Festival. It was nominated for 13 prizes and won four. (Becky Tan)