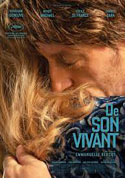 In Liebe lassen (Peaceful, De son vivant)
France/Belgium 2021
Opening 20 Jan 2022
Directed by: Emmanuelle Bercot
Writing credits: Emmanuelle Bercot, Marcia Romano
Principal actors: Catherine Deneuve, Benoît Magimel, Gabriel A. Sara, Cécile de France, Oscar Morgan
Benjamin (Benoît Magimel), a failed actor who gives acting classes, is 40, when he receives the diagnosis 'pancreatic cancer, stage IV', inoperable, with an average life expectancy of a year. At first in denial, seeking second and third opinions, accompanied by his protective mother, Crystal (Catherine Deneuve), he gradually accepts the truth and lets himself be guided through the last four seasons of his life by Dr. Eddé (Gabriel Sara) and his team.
The film starts with Dr. Eddé leading a staff meeting, where doctors and nurses share their emotions about dying patients, ending the session with singing together. How does one talk to the relatives of the dying, how can the staff make things more bearable for all concerned? The performances of Catherine Deneuve and Benoît Magimel, who have worked before as mother and son under the direction of Emmanuelle Bercot in 'Standing Tall' ('La Tête Haute'), are gripping, but the most amazing thing about this incredibly sensitive movie, full of empathy, is that Gabriel Sara, who plays Dr. Eddé, is not a trained actor, but a real-life oncologist. Gabriel Sara was born in Lebanon and has worked for 40 years in New York City. He and Emmanuel Bercot met in 2015 at a screening of 'Standing Tall', and he helped as a consultant on Bercot's new movie, but it was not until it came to casting the role of Dr. Eddé that the idea was born that he himself could play the doctor. At the out-of-competition showing of the movie at the Cannes Film Festival, Sara received standing ovations.
Of course the film, with its two hours length, has a few sub-plots. Dr. Eddé tells Benjamin to tie up loose ends and to make peace with people. One of those loose ends is his 19-year-old son (Oscar Morgan), whom he never met. At the time when his girlfriend was pregnant, his controlling mother (Deneuve) persuaded Benjamin to abandon them. Now the son flies over from Australia, where he lives with his mother, and needs to make a decision whether to see his father or not before he dies. Another short, not very believable, sub-plot, is that Eugénie, the assistant nurse (Cécile de France), falls in love with the dying Benjamin. Whilst there are many sentimental, but absolutely emphatic and convincing, scenes in this drama about truth and acceptance, this sudden love plot just doesn't fit.
However, I want to close by sharing with you the five key phrases which Dr. Eddé tells Benjamin to speak on his last journey, and they are: Forgive me. I forgive you. I love you. Thank you. Good-bye. The order in which they should be used does not matter, says the doctor. (Ulrike Lemke)