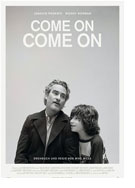 Come on, Come on (C'mon C'mon)
U.S.A. 2021
Opening 24 Mar 2022
Directed by: Mike Mills
Writing credits: Mike Mills
Principal actors: Joaquin Phoenix, Gaby Hoffmann, Woody Norman, Scoot McNairy, Molly Webster
Director Mike Mills is no stranger to sharing his personal life onscreen. While his 2016 film 20th Century Women explored the complicated relationship with his mother, 2009's Beginners told the story of how his real-life father came out in his seventies, played beautifully by the late Christopher Plummer.
Mills' latest venture, C'mon C'mon, explores the unique bond between an uncle, Johnny (Joaquin Phoenix) and his nine-year-old nephew, Jesse (Woody Norman). Shot entirely in black and white, this film explores what it means to listen—especially to children. Johnny is a single and childfree New York-based radio journalist whose current work involves interviewing kids, asking them about their hopes and fears for the future.
When he gets a call from his LA-based sister Viv (Gaby Hoffmann), asking him to temporarily take care of Jesse while she tends to her ex-husband (Scoot McNairy) who is suffering from bipolar disorder, Johnny ends up taking Jesse on an impromptu road trip across the US, even to New Orleans.
Although Mills gives us several glimpses into what it's like for Viv, dealing with her troubled ex, the story ultimately revolves around Johnny and Jesse, letting us watch their relationship unfold in real time. It's also revealed that Johnny and Viv are only recently on the mend, having had a falling out after the recent death of their mother.
Throughout the film, Johnny repeatedly tries to turn the mike on Jesse, asking him to share his own thoughts on life. It isn't until the very end that we get to see the strong-willed yet sensitive Jesse acquiesce to his request, filling the audience with plenty of emotion. With a dynamic soundtrack (everything from opera to Lou Reed), this movie reminds us to really slow down, listen, and cherish those closest to us. (Erin Huebscher)