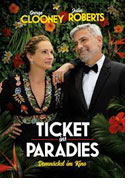 Ticket ins Paradies (Ticket to Paradise)
U.S.A. 2022
Opening 15 Sep 2022
Directed by: Ol Parker
Writing credits: Ol Parker, Daniel Pipski
Principal actors: George Clooney, Sean Lynch, Julia Roberts, Kaitlyn Dever, Billie Lourd
Julia Roberts and George Clooney are together again on the big screen as Georgia and David, a bitterly divorced couple forced to put their differences aside as they team up to stop their daughter, Lily (Kaitlyn Dever) from marrying a man she just met while on holiday in Bali.
As with many romantic comedies, the plot is both ridiculously outrageous and predictable at almost every turn, but watching Oscar winners Roberts and Clooney as they work their magic makes the whole thing worth it. Not only do they have amazing chemistry on screen, just as they did in the Ocean's Eleven franchise, but their maturity adds an additional layer to the film. Audiences grew up watching these Hollywood icons as the young stars of various romantic dramas and comedies—now we see them more than twenty years later playing a role where the happily ever after didn't pan out.
Director and co-writer Ol Parker does a good job keeping the nostalgia element in the forefront for many older fans. Along with the good-natured gripes the pair has about getting old are hilarious scenes of them attempting to relive their college days of playing beer pong and dancing to 90s rap. In the film, the next generation is both embarrassed and impressed, though I'm not so sure that would be the outcome in real life.
All in all, Ticket to Paradise invites the audience to abandon the tedium of everyday life, suspend all judgment when it comes to a plot, and join two screen legends on a beautiful island filled with gorgeous jaw-dropping scenery for some good old-fashioned rom-com! (Adelina Gonzales)