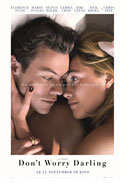 Don't Worry Darling
U.S.A. 2022
Opening 22 Sep 2022
Directed by: Olivia Wilde
Writing credits: Katie Silberman, Carey Van Dyke, Shane Van Dyke
Principal actors: Florence Pugh, Olivia Wilde, Chris Pine, Harry Styles, Gemma Chan
Part The Truman Show (1998), part The Stepford Wives (1975), Olivia Wilde's existential thriller Don't Worry Darling has all the right ingredients to do just as well at the box office as her directorial debut, Booksmart (2019), but ultimately, fails to do so.
We are first introduced to the amorous couple Alice (Florence Pugh) and Jack (Harry Styles) at a lively dinner party amongst their well-to-do married friends. Set in the 1950s in a utopian desert community called Victory, we soon learn all the husbands are part of the top secret "Victory Project" that is headed up by Frank (Chris Pine). While the wives are kept in the dark about what their husbands' actual jobs are, they are told explicitly to never travel beyond Victory or ask why they are there in the first place.
Instead, these women are free to enjoy all that Victory has to offer them such as luxury shopping trips and group ballet classes. Alice, who at first seems to revel in this idyllic lifestyle, soon notices small cracks in Victory's picture-perfect reality, which sets off a series of events that are deeply troubling to her—and to the audience watching it unfold.
Without giving away the entire plot and the sinister "twist" at the end, I was left feeling admittedly underwhelmed. While Pugh is always captivating in any role, I fully expected Styles, one of the leading pop artists of his time, to have his massive appeal translate on the big screen. For whatever reason, it did not. The costumes and cinematography were fantastic, however, so from a visual perspective it's certainly worth seeing. (Erin Huebscher)