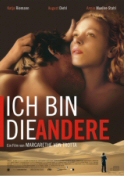 Opening 5 Oct 2006
Directed by: Margarethe von Trotta
Writing credits: Pea Fröhlich, Peter Märthesheimer
Principal actors: Katja Riemann, August Diehl, Armin Mueller-Stahl, Barbara Auer, Karin Dor
The first idea that came to mind after the film ended was, "Whoa, that was very intense" even though I already knew the film was going to end in that particular way (and no, I am not going to tell you).
I don't know if it was director Margarethe von Trotta's intention to create a stage performance on screen, however, the roles that all secondary characters and the background images played seemed to be ticking a few scenes behind the main character, Carolin/Carlotta, played by Katja Riemann. This created a "film", a monologue about one person.
The role of Carolin/Carlotta is a challenging role for any actress to play, yet at the same time it allowed Riemann to explore in-depth the many different personalities of the character. In the press information it states, that Carolin/Carlotta does not have just two, but rather four different personalities. I could not agree more. The first role that one is confronted with is that of Carolin the very obedient daughter. The first scene could literally be broken down and be discussed by psychologists, but I will leave that to them. Carolin speaks with her father over the phone and discusses the adventures and escapades that her "friend" Carlotta has been up to. Her father (Armin Müller-Stahl) even asks her why she calls him every Sunday. She does that to fulfill her daughterly duty and her yearning after the love of her father.
The Carlotta side of this character, dressed up in a revealing red dress and cheap blond wig, is a woman searching for love from men other than her father. This search allows her to explore her own sexuality, yet after each adventure she awakes, and Carlotta is gone. All that remains is her third personality, a scared and helpless little girl ashamed of what she has done.
The fourth side of Carolin/Carlotta is a very successful and intelligent lawyer, dressed and acting as society expects from a person with such a job and qualifications.
As mentioned before, all other aspects of the "film" brought forth the presence of a stage performance. At times their presence was almost a nuisance and even disturbing. One scene stands out extremely is the wedding scene. Robert, Carolin's fiancé is walking up through the vineyards to the site where the wedding is to take place. He is followed by Carolin's mother and her friends. The mother blabbers away, while Robert silently focuses on Carolin. The problem was it just didn't work. It was almost like watching Snow White and the Seven Dwarfs. I actually found myself mentally singing "Heigh-Ho Heigh-Ho", because I had to try and make the scene work somehow.
Despite the fact that the other characters sometimes got in the way (and when I look back I have to laugh because in a way they are just so hilarious…even though the film is not a comedy) I recommend this film especially due to Riemann's performance. She was able to truly show that her characters search for love and desire to be loved was her ultimate downfall. Her search and desire were unattainable; due to the fact the she was never open to let it in. (Marcie Jung)