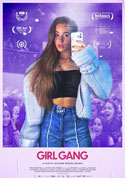 Opening 20 Oct 2022
Directed by: Susanne Regina Meures
Writing credits:

Crowds of screaming young girls are impatiently waiting outside the mall to meet face to face with Leonie, a teen influencer from Berlin. Their emotional state is so high that many of them are at the point of tears. No one knows the psychological effects that the internet has on society, but maybe studying the self-motivated entrepreneur 14-year-old Leonie may provide some answers. She has successfully accumulated 1.6 million followers and has easily made a million euros. When it came to light the enormous economic potential in her business, they quit their jobs and immediately jumped on board as her managers.
After winning the European award with the amazing film Saudi Runaway (2020) which also used a mobile phone to tell the story, Swiss director Susanne Regina Meures embarks on another film with the same basis. Girl Gang is a challenging documentary since she needs to capture the life of a teenager who already has created approximately 2500 social media posts. The product sponsors are so enthralled with her that they constantly throw products at her left and right to create more videos on Instagram and Twitter during her free time. Meures follows Leonie through her life but also creates a second storyline. She follows one of her followers who truly believes Leonie is her best friend. We are very soon confronted with the control mechanisms of the parents, sponsors, and the internet itself which is forming a strange glass prison in which Leonie has to carefully navigate herself through to find what is important to her in life.
It certainly opened my eyes to the difficulty of Leonie's life, how she no longer is part of the innocent and natural way of life, but one that is artificially made through her mobile phone. I highly recommend this film as it may help some of us understand the way Generation Z thinks as well as seeing the problems it can create. (Shelly Schoeneshoefer)