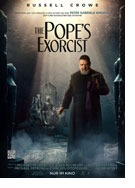 Opening 6 Apr 2023
Directed by: Julius Avery
Writing credits: Michael Petroni, Evan Spiliotopoulos, R. Dean McCreary, Chester Hastings, Jeff Katz
Principal actors: Russell Crowe, Daniel Zovatto, Alex Essoe, Franco Nero, Peter DeSouza-Feighoney
I went in skeptical, I'm the first to admit that. Another horror film, another case of demonic possession. This one has a few compelling elements to it, however, that take it beyond the usual eerie setting, innocent family that can't just leave for whatever reason, and jump scare formula. The first being the claim that it is, in fact, based in fact.
That's a pretty broad category, of course. But Gabriele Amorth was the chief exorcist at the Vatican, actually "the pope's exorcist," for many years. His memoirs had been coveted by filmmakers for ages before the producers of this film won his permission to use them by dint of their own devout Catholicism. Because Father Amorth was nothing if not devout, not to say zealous, in his faith, and that part of his characterization is what is "based in fact" (not the plot, which admits to being fictional). Also, he was apparently kind of a jovial guy, and Russell Crowe plays him as such, intensely serious and jokey all at once. This is Crowe's first foray into the horror genre, and he took on the role just for this character. He gives the impression that he's relishing it, which makes him very watchable. It's a tremendous performance and a not bad at all Italian accent!
So, a recently widowed American mom (Alex Essoe) and her two traumatized kids arrive at an ancient, crumbling abbey in Spain, the only thing the departed dad left for them. They plan to fix it up to sell and have nowhere else to go during the renovation. The son (Peter DeSouza-Feighoney) gets possessed posthaste, and Amorth is called in. Even with the assistance of a local priest (Daniel Zovatto), he's got a lot on his plate. This demon knows both priests' darkest secrets and how to torture them with the knowledge. Also, it turns out that this abbey harbors not only a terrible evil but, da Vinci-code style, an awful secret about the Catholic church itself.
The intersection of religion and horror is a natural, of course. This time however, evil done in the name of religion is acknowledged (even if the explanation is a tad too pat). It's a start, and it makes for a more-compelling-than-usual scary movie. (Mason Jane Milam)