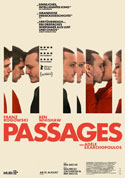 Opening 31 Aug 2023
Directed by: Ira Sachs
Writing credits: Mauricio Zacharias, Ira Sachs, Arlette Langmann
Principal actors: Franz Rogowski, Ben Whishaw, Adéle Exarchopoulos, Erwan Kepoa Falé, Arcadi Radeff
Toxic, sexy, and utterly heartbreaking, Ira Sachs' film Passages explores a modern-day love triangle with a voyeuristic feel. Franz Rogowski plays Tomas, the petulant German filmmaker living in Paris with his English print-shop artist husband, Martin (Ben Whishaw).
At the wrap party of his latest film, Tomas meets Agathe (Adèle Exarchopoulos), a schoolteacher who oozes novelty and sensuality. When Martin decides to go home early, Tomas dances with Agathe and eventually goes home with her. The morning after, he confesses to Martin what transpired and so begins the tumultuous back-and-forth between his long-suffering husband and his new French lover.
Over the course of 90 minutes, the audience gets to watch a marriage disintegrate and a tenuous new relationship begin—all with a sense of foreboding that this situation will not end well for anyone involved. Despite what the trailer suggests, Passages isn't a film just about sex; it's about the power dynamics of sex and one man's decision to use it as his way to manipulate and control those closest to him.
Whatever arrangement Tomas and Martin might have had previously in their marriage, it's clear that an affair with a woman, a woman whom Tomas quickly claims to love, is not part of their deal. It's only when Martin threatens to move on that Tomas decides to come back into his life, as though he never left, and expect their dynamic to remain the same. This creates unbridled tension for all three characters—Martin grappling with what it means to lose his hedonistic husband, Agathe longing for commitment with a man who is still married, and Tomas wanting the best of both worlds. The anguish Tomas causes both Martin and Agathe is palpable, and at times, almost unbearable to watch.
Ultimately, Passages is about the pursuit of pleasure, no matter the cost. Personally, I would have preferred to delve more into the lives of Martin and Agathe, far more nuanced and relatable characters, than the narcissistic Tomas, who felt very one-dimensional and incapable of self-discovery or growth. (Erin Huebscher)