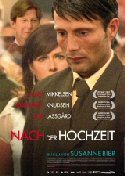 Nach der Hochzeit (After the Wedding, Efter brylluppet)
Denmark/Sweden 2006
Opening 1 Feb 2007
Directed by: Susanne Bier
Writing credits: Susanne Bier, Anders Thomas Jensen
Principal actors: Mads Mikkelsen, Sidse Babett Knudsen, Rolf Lassgard, Stine Fischer Christensen, Mona Malm
One would say that Jacob (Mads Mikkelsen) "lands with his bum in the butter". So what is his problem? Well, before he "lands", he has to leave his beloved India for Denmark, leave his eight-year-old protégé Pramod (Neeral Mulchandani) behind and have an unexpected encounter with his old love Helene (Sidse Babett Knudsen), now married to his benefactor. He finds a daughter he never knew he had. A lot of soul-searching follows, life is a puzzle, difficult decisions will have to be made.
Jörgens (Rolf Lassgard), a Danish businessman, is offering four million US$ for Jacob's run-down orphanage in India under one condition: that he sign the contract personally. Why only him? Unwillingly he arrives in the country he left 20 years ago. Jörgens acts strangely, is distracted, does not show much interest in the Indian project but instead invites him to the wedding of his beautiful young daughter Anna (Stine Fischer Christensen). After the wedding, everything changes and nothing stays the way it was before as one secret after another is unravelled. Not even the young marriage survives.
The storyline moves swiftly from action to quiet sentimental, but touching, moments and meaningful close-ups. Unfortunately, the close-ups of eyes, nostrils and lips were a bit overdone and a few too many for my liking.
This Danish film is by director Susanne Bier. In 2004 she received (among other prices) the Filmfest Hamburg critics' for her successful directing of Brothers. Rolf Lassgard, a prominent Swedish actor, is well-known to German television audience as "Kommissar Beck" and Henning Mankell's Kommissar Kurt Wallander. Mads Mikkelsen can be seen in the latest James Bond film Casino Royale posing as the villain Le Chiffre. (Birgit Schrumpf)