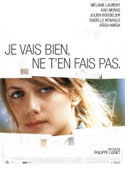 Keine Sorge, mir geht's gut (Je vais bien, ne t'en fais pas)
France 2006
Opening 22 Mar 2007
Directed by: Philippe Lioret
Writing credits: Olivier Adam, Philippe Lioret
Principal actors: Mélanie Laurent, Kad Merad, Isabelle Renauld, Julien Boisselier, Aïssa Maïga
Returning from vacation, vivacious 19-year-old Lili is welcomed by her parents. Something is wrong. Why this worried look? They tell her that her twin brother Loic left home after a terrible fight with his father (Kad Merad). Mother Isabelle (Isabelle Renauld) is helpless and unhappy. Startled by their peculiar behaviour, Lili dials Loic's mobile number to find out what really happened. He does not answer and ignores all her messages. It makes no sense to her!
She accuses her parents of hiding the real reason from her. Something might have happened to him. Had the police been informed? Paul, her father, seems to take it all very calmly, totally detached, not in the least concerned about his son's whereabouts. The uncertainty and tense atmosphere in the house is hardly bearable. Her close friends, Léa (Aissa Maiga) and Thomas (Julien Boisselier), are her only support. Lili cannot eat, cannot sleep and after a collapse has to be submitted to hospital. It is heartbreaking to watch Lili's frustration, her suffering. Will she ever recover? All she wants to do is to die. She is certain that Loic is dead.
One day a postcard from her brother arrives out of the blue: all is well; he loves her and will soon write again; he couldn't handle their nagging, depressing father any longer and is now roaming the country for a while, playing his guitar. More postcards arrive from different places. Fragile Lili slowly finds back her energy but cannot come to terms with her brother's apparently new lifestyle. Secretly, she is looking for him, visiting the places mentioned on his cards. Whilst sitting in a café on the coast, watching the rain, she sees a familiar hooded figure dropping a postcard into a mailbox and follows.
This film by Philippe Lioret is a sensitive and moving portrait of a middle-class family and is as engrossing as a thriller, but not without its funny moments. Mélanie Laurent carries the whole film and is a delight to watch. She received the "Romy Schneider Prize" for her touching performance as Lili and was invited as a shooting star candidate to the 2007 Berlinale. (Birgit Schrumpf)