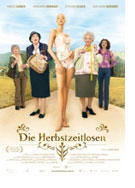 Die Herbstzeitlosen (Late Bloomers)
Switzerland 2006
Opening 29 Mar 2007
Directed by: Bettina Oberli
Writing credits: Sabine Pochhammer, Bettina Oberli
Principal actors: Stephanie Glaser, Hanspeter Müller, Heidi Maria Glössner, Lilian Naef, Annemarie Düringer
Tucked away in the Emmental valley, 80-year old Martha (Stephanie Glaser) listlessly tends her little corner shop in picturesque Trub. She has not only lost her husband but also all interest in life around her. Even the traditional and jolly Sunday card game with her girlfriends Lisi, Frieda and Hanni cannot bring her laughter back. They worry about her until a new task comes up: the old choir's club flag has to be mended.
Excitedly, the four friends take the bus into town to buy the necessary material. Whilst handling and choosing the material for the flag Martha remembers her time as a qualified seamstress, telling her friends that she had always wanted to open a lingerie boutique in Paris. But then she married, settled in the village and the plan was shelved. Only a beautifully-made brassiere hidden away in a box remains as a sample of her talent. Her eyes begin to sparkle; love of life seems to return. Her friend, the lively and enthusiastic Lisi (Heidi Maria Glössner), persuades Martha to refurbish the shop, design again her exquisite underwear and open a lingerie boutique in Trub. One can easily imagine the effect on the traditional and pig-headed village folks. To her dismay, her son is putting more than one "spanner in the wheel" and even some friends are sceptical.
Martha's hard work and all her effort does not pay off and she is about to give in, but her rebellion has ruffled the village people and some change in attitude is showing. Her resolute friend Hanni (Monica Gubser) decides to take driving lessons and prim and proper Frieda (Annemarie Düringer), getting bored in her old age home, joins the computer group. Together the four friends manage to stand up against their own children (not so young any more either). Their courage, wit, enthusiasm and optimistic look at life are catching.
For her performance Stephanie Glaser won an award at the 2006 Locarno Film Festival. She is an over 80-year-old theatre actress and this is her first leading part starring in a movie. The X-Verleih presents this Swiss comedy by Bettina Oberli with German subtitles as the village dialect of the Emmental valley is not easy to understand. (Birgit Schrumpf)