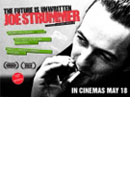 Joe Strummer: The Future is Unwritten
Ireland/U.K. 2007
Opening 24 May 2007
Directed by: Julien Temple
Writing credits:

John Graham Mellor, born in 1952 in Turkey, was the son of a British diplomat who moved around the world. At age nine, John started British boarding school ("a place where people hanged themselves") where he was a poor student. His classmates describe him as very sociable, the center of attention. He evolved into the lead singer and guitarist of the punk rock group The Clash.
Director Julien Temple has collected hours of film footage, artwork, music, and interviews to fill in the facts of Strummer's extraordinary career ("I'm a punk rock warlord and write 'warlord' as one word") until his death in 2002. His beloved brother David committed suicide; John changed his name to Woody; he entered art college and drew cartoons. In 1974, he left school and joined hippie house squatters who protested that houses stood empty while people were homeless. Simultaneously, he taught himself music and performed with like-minded friends. He changed his name to Joe Strummer ("because I strummed a guitar"). Bernie Rhodes encouraged him to join a new group, The Clash, and their first real album appeared in 1977 with a hugely successful follow up, "Sandinista," in 1980. They toured Great Britain, Canada, and the U.S. The group disbanded in 1985. Joe married, had two daughters, appeared in film (Mystery Train by Jim Jarmusch), and worked with other groups such as the Mescaleros.
There are cameos from Elvis, the Rolling Stones, the Sex Pistols, Marianne Faithful, Bono, Martin Scorsese, John Cusack, Johnny Depp, Matt Dillon, and many, many more. Hopefully, the final version will identify the people who give testimony. They sit around campfires in New York, California, England, and other parts of the world, play The Clash music and reminisce. Strummer thought that punk rock reflected the roar of the city. On the other hand, he was drawn almost spiritually to a cozy blazing fire along a river at night. Also, he said, "The good thing about punk rock is that if you are ugly, you're in." He, though, was very good looking his whole life except for having extremely bad teeth. This film needs a good edit; it is unnecessarily repetitious, confusing and 30 minutes too long. The Clash fans will love it. (Becky Tan)