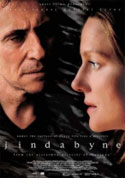 Jindabyne - Irgendwo in Australien (Jindabyne)
Australia 2006
Opening 11 Oct 2007
Directed by: Ray Lawrence
Writing credits: Raymond Carver, Beatrix Christian
Principal actors: Chris Haywood, Tatea Reilly, Laura Linney, Sean Rees-Wemyss, Gabriel Byrne
"When the going gets tough, the tough go fishing"
Stewart (Gabriel Byrne) and his three buddies take off on their annual fishing trip in a state park near Jindabyne, their small-town home in southeastern Australia. They are unnerved when they find the body of a young woman in the river, but instead of breaking off their trip, they decide to stay and fish as planned, reporting the news when they return to civilization two days later. This decision sets off a chain of events which has unexpected repercussions on their personal and professional lives.
Their wives/girlfriends, and much of the community, have trouble understanding how the men could have continued fishing with the dead body nearby – the girl needed their help. The men are confused – the girl was already dead, and there was nothing they could do for her. Racial tensions also rise to the surface and add a further dimension to the story. The murder victim was an Aborigine, and the Aboriginal community is outraged, accusing the men of prejudice ("surely they would have reported the body right away if the girl had been white") and lashing out with several acts of vandalism against the men.
The film revolves around four couples, mainly focusing on Stewart and Claire (deftly portrayed by Laura Linney), his American wife, who seems to be constantly struggling to maintain composure. Stewart, a former racecar driver, now owns a gas station and auto repair shop. He's a taciturn man who loves his wife and son (in an unusually thoughtful performance by a child actor Sean-Rees Wemyss), but is incapable of expressing emotion, preferring to drown his feelings and desires in beer. Claire seems somehow out of place in this small town, as her American sensibilities of wanting to help and understand others in need are continually thwarted. She simply cannot understand how her husband could have continued fishing with the dead body nearby and continues to prod Stewart with questions in unsuccessful attempts to get him to talk about his feelings. Her guilt at this perceived failing in her husband spurs her on to try to help the family of the murdered woman. Her efforts are unwelcome, both to her friends and neighbors, who tell her to "take care of your own" and to the Aboriginal community, who perceive her as interfering in their grieving. Claire's persistence threatens to destroy her marriage and her life, yet she is determined to make things right.
The three other couples are played by a fine group of excellent Australian actors. Their characters' personalities are delineated clearly, both as individuals and as part of a couple. Each is forced to confront his own demons and deal with the situation in his own way, yet interestingly the bonds of their relationships prove to be stronger than the needs of the individual. No one but Claire seems to want to talk about what has happened; the others demonstrate their reactions with actions, which speak just as loudly as the words Claire seeks. Sadly the other couples never get quite enough dialogue and screen time to take advantage of their strong ensemble playing.
The film moves slowly, taking a while to get going. The first 40 minutes are used to set up the characters and their relationships, as well as to set up the murder. However the stories are told in little snippets, interspersed with the other plotlines, which makes it challenging for the viewer to settle into the story. There is beautiful cinematography of the surrounding area throughout the film, showing wide swaths of land stretching to the horizon, lovely lake shots, or idyllic mountain and river scenery. Yet everything is overshadowed by a sense of foreboding, heightened by the soundtrack of strangely eerie music. It is hard to sit back and enjoy this natural beauty while knowing that something sinister has happened and while watching the tragic events unfold.
The film touches upon themes of communication between men and women, racial tension, societal pressure, and loyalty and relationships, a rather ambitious series of subjects. Unfortunately these different strands never really gel, although the film tries to bring them all together at the end. I found myself feeling sorry for these characters, as they all seemed to be emotionally blocked, and – with the exception of Claire – preferring to continue their mundane lives as before. But perhaps that is the point of the film – to make us examine our own lives and relationships and to try to understand our emotional, moral and social roles and responsibilities (Erica Fox Zabusky)