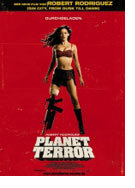 Opening 4 Oct 2007
Directed by: Robert Rodriguez
Writing credits: Robert Rodriguez
Principal actors: Rose McGowan, Freddy Rodriguez, Josh Brolin, Marley Shelton, Jeff Fahey
Once upon a time two friends, both film directors, were befallen by a wave of nostalgia for 1950s, double-feature, B-movies. They decided to revive the genre. One director, Quentin Tarantino, made Death Proof, and the other, Robert Rodriguez, came up with Planet Terror. Both showed in the U.S. under the title Grindhouse to limited success. Now, Europeans get the films individually and longer, first Death Proof and now Planet Terror.
A killer virus invades Texas. Victims, whose flesh is literally falling off their bodies, prey upon others. Strangely, a few people are immune; they unite in order to escape the insanity. Foremost in the line of fire is El Wray (Freddy Rodriguez – of Six Feet Under fame, no relation to Robert) and his girlfriend Cherry Darling (Rose McGowan), who is a kung-fu expert with a leg prosthesis; she alone is worth the price of a movie ticket. Other highlights are J.T.'s (Jeff Fahey) restaurant and his famous barbeque sauce as well as his brother, Sheriff Hague (Michael Biehn), who, when confronted with a corpse with his scull licked clean, comments, "Looks like a no-brainer." 
Maybe the whole idea was a fluke, but the protagonists had fun. Rodriguez, certainly, as he was responsible for directing, editing, composing, producing, sound making, and writing, not to mention, showing off his cute, small son, listed as Rebel Rodriguez. He plays the son of the physicians Dakota (Marley Shelton) and William Block (Josh Brolin). Tarantino plays The Rapist and Bruce Willis is Lt. Muldoon.
If scary nonsense is your thing, then see Planet Terror. But be aware that here there is nothing new in the world of zombies which hasn't already been said or eaten in Night of the Living Dead. Film purists will appreciate the techniques of making it look dated. (Becky Tan)