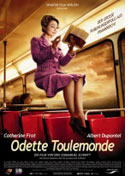 Opening 25 Oct 2007
Directed by: Eric-Emmanuel Schmitt
Writing credits: Eric-Emmanuel Schmitt
Principal actors: Catherine Frot, Albert Dupontel, Jacques Weber, Fabrice Murgia, Nina Drecq
….. and they lived happily ever after!
The world is full of wonders, particularly Odette's (Catherine Frot). One would think her world is drab and her life is hard, when living in a crummy apartment with her adolescent children and holding a boring job in a department store. Oh no, Odette's life is music and fantasy, thanks to Balthazar Balsan (Albert Dupontel). She has read all his books, which give her strength to face her life with an unshakable optimism. Her heart is full of gratitude for the author who makes her life so colourful.
Her hero is an attractive man with an attractive wife and a beautiful home. But instead of being happy, he is depressive and miserable, especially after finding out that his wife has an affair. He is in a serious crisis of his life and it is Odette, his staunch fan, who helps him to regain his self-confidence and zest for life. She believes she owes him and feels responsible for his regaining happiness. Despite her dreams and romantic escapism, she is a very down-to-earth and pragmatic woman. This does not stop her from cheerfully lifting up into the sky from time to time and singing her way through the department store or dancing Josephine-Baker-style through the kitchen.
Eric-Emmanuel Schmitt's books are bestsellers in France as well Germany (i.e. Monsieur Ibrahim und die Blumen des Koran). In 2004 he received the Deutschen Buchpreis in Leipzig. This is his first film as director. His script is considered autobiographical in parts, and there will be a book based on the story of the film. Catherine Frot and Albert Dupontel are two actors who understood and played his characters with the naivety and positive energy as is typical for his work. (Birgit Schrumpf)