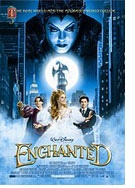 Verwünscht (Enchanted)
U.S.A. 2007
Opening 20 Dec 2007
Directed by: Kevin Lima
Writing credits: Bill Kelly
Principal actors: Amy Adams, Patrick Dempsey, James Marsden, Timothy Spall, Susan Sarandon
This animated Disney film is not what you think it is. Although it starts off in the kitschy faiytale land of Andalasia with its bambi-like forest and talking animals, it pulls lots of punches as it spoofs its way through every fairytale you've ever seen.
Princess Giselle (Amy Adams), eager to meet her Prince, sings to a crescendo a melody which wafts its way to Prince Edward's (James Marsden) ears and draws him to her side. Love reigns and they plan to marry the next day. In order not to lose her crown to the woman her son will marry, the wicked Queen Narissa (Susan Sarandon) diverts Giselle on her way to the wedding, and, leading her to a magic wishing well, shoves her into its depths where she plunges down through the watery bowels of animated Andalasia and pops up out of a manhole smack-dab in the middle of rush-hour New York City, real world, USA. (Also known as "the world without happy endings".)
From this point on, all kinds of chaos ensues as a single and handsome divorce lawyer (Patrick Dempsey) tries to help the naïve Giselle back to her prince who has popped out of the manhole, along with other characters, in an attempt to get her back.
Director Kevin Lima (The Lion King and Tarzan) cleverly and wittily takes classic scenes from all the old beloved fairytale films of our time and reworks them into an intelligent and very funny visual tale full of spoof and cliché as he unceremoniously pulls surprises at every turn, taking the audience on a mind trip through childhood fairytale memories of the past and keeps you cheering and snickering. Susan Sarandon, by the way, makes a great wicked queen. Just one last thing: as with all fairytales, Enchanted too, has its lesson to impart – remain naïve to the jadedness of the world, believe in true love, and true love will find its way to you!
Enchanted is a highly amusing and entertaining film, perfect for both children and adults, and will be released as Disney's Christmas special. (the KinoCritics)