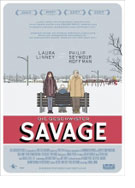 Die Geschwister Savage (The Savages)
U.S.A. 2007
Opening 24 Apr 2008
Directed by: Tamara Jenkins
Writing credits: Tamara Jenkins
Principal actors: Laura Linney, Philip Seymour Hoffman, Philip Bosco, Peter Friedman, David Zayas
The candy-coated retirement villages of Arizona may appear to be a viable solution to a surging population of elderly Americans, but it cannot hide the reality of prevalent issues of dementia. Lenny Savage (Philip Bosco) is an aging senior who has been sharing his retirement years with live-in partner Doris, who has round the clock hospice care as she stares vacantly into space. Although Lenny isn't quite as oblivious as Doris, the opening scene of The Savages reveals that he's slipping in the same direction as he frustratingly smears profanity written with his own excrement on the bathroom wall after being patronized by a care-worker. When Doris passes away, Lenny's two adult children must find a new home for their father. The weight of inconvenience for Wendy (Laura Linney) and Jon Savage (Philip Seymour Hoffmann) to postpone their lives and travel to Arizona to deal with their cranky father's care is obvious as it becomes apparent that the Savages are not a close-knit happy family. On the contrary, it appears that this is an unsavory set of circumstances for everyone.
Jon and Wendy are deeply embedded in their own neuroses and dramas of mundane lives, with little choice but to come together and find a place to dump dear old Dad. Wendy seeks an optimistic outcome by applying for a high-end assisted-living center; Jon is the realist as he checks his father in to a dreary local nursing home. Thus begins the journey of two grown siblings who evolve individually through the shared responsibility of caring for a father that needs their love without the capacity or desire to love his own children in return.
Director/writer Tamara Jenkins has created a scenario perhaps all too familiar for millions of families dealing with the fallout of mind-degenerating disease and has cast the most brilliant actors to convey a fine message: they are us and we are them. Linney nails the part of younger sister as she struggles for brotherly approval and personal growth, stalled in a dead-end affair and stunted career as a hopeful playwright. Seymour Hoffman shines once again as he wears Jon Savage like a second skin; an ambivalent professor who cannot make a commitment professionally or personally. Bosco has the right balance of confusion, anger, frustration and ennui as he gives you reason to care about Lenny despite the fact that he really doesn't deserve your empathy. Stellar performances from all three, threaded with layers of humor and hearty family weight, shoot this film to award-level consideration.
The Savages is not a happy movie, and although the denouement gives you a certain sense of promise for Jon and Wendy, it isn't a good vehicle for a "resounding hope" ending. I found myself depressed for a long while afterwards and so knocked a star off the top: dementia isn't entertainment, however accurately portrayed. (Kirstan Böttger)