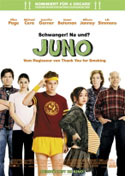 Opening 20 Mar 2008
Directed by: Jason Reitman
Writing credits: Diablo Cody
Principal actors: Ellen Page, Michael Cera, Jennifer Garner, Jason Bateman, Allison Janney
I really enjoyed this film even though it was shown in German. (Sorry, I believe films should be shown in their original language with subtitles.) Juno, directed skillfully by Jason Reitman (of Thank You for Smoking fame), is a perfect example as to why. This film has been getting a lot of buzz back in the U.S., predominately for its witty and clever dialogue written by the colorful new screenwriter Diablo Cody. Oftentimes films receiving such hype and buzz fail to deliver, but not Juno.
After becoming pregnant by her best friend Paulie Bleeker (Michael Cera), Juno (Ellen Page) decides to give her baby away to deserving couple Vanessa and Mark (Jennifer Garner, Jason Bateman) whom she finds in the Penny Saver. She goes through the ups and downs of pregnancy while attending high school and becoming close to Mark. On the way, she learns that the things that seem simple never are.
It's a very interesting look at teenage pregnancy, although sometimes bordering on "yeah right." The reaction of her dad (J.K. Simmons) and her step-mom (Allison Jenney) is somewhat unbelievable. Dad accompanies Juno to meet the prospective parents and Step-mom keeps Juno on her extensive pre-natal regiment. As the film progresses and we get to know Juno better, we understand how her parents are so quick to accept her condition. She is not your typical teenager. Ellen Page really shines in this role. Juno is a slip of a girl who has quirky taste in music, movies and in the man of her dreams! Bleeker is a geek who is on the track team and has no clue how to communicate his true feelings to Juno. Instead he runs, runs, and runs, as if running somehow will solve his dilemma.
Just when you think you know where the film is headed, it takes some surprising twists and turns, but the well-developed characters keep the story real. Lastly, here is a snippet of that wonderful dialogue taken from the scene where Juno sits down with Mark and Vanessa (adoptive parents) to discuss the terms of the adoption: Juno: "Can't we just like kick this old school. You know, like I stick the baby in a basket, send it your way, like Moses and the reeds?" (Karen Engelke)