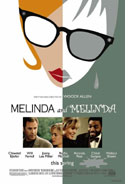 Opening 23 Jun 2005
Directed by: Woody Allen
Writing credits: Woody Allen
Principal actors: Will Ferrell, Neil Pepe, Stephanie Roth Haberle, Radha Mitchell, Chloë Sevigny
Quiz: who is the director of this film? It opens to jazz music and then pans to a Manhattan restaurant where two couples are deep in an intellectual discussion about comedy versus tragedy ("The essence of life isn't comic, it's tragic."). The answer is, of course, Woody Allen, who tells two stories. In one, Melinda (Radha Mitchell) barges unexpectedly into a dinner party at the home of Susan (Amanda Peet) and husband Hobie (Will Ferrell). She is full of sleeping pills and must be rescued, even given shelter in order to recover from her disappointing and chaotic life. She falls in love with a musician named Billy, but Hobie is smitten with her. In the second story, Melinda (Mitchell in a double role) has left her husband and children for a photographer who disappoints her. Full of pills and alcohol, Melinda disrupts a dinner party, this time at the home of her school friend Laurel (Chloé Sevigny) and husband Lee (Jonny Lee Miller). The party is in honor of a film director who, Laurel hopes, will offer Lee a leading film role. Melinda falls in love with a black pianist, who cheats on her with Laurel.
This film is highly recommended for Allen fans who are suffering from withdrawal symptoms and need their yearly Woody Allen fix. They won't be disappointed, since this film with its fast dialog is more entertaining than his two previous ones. Everything is there: nervous and high-strung liberals, long philosophical discussions which mask basic communication problems, big and expensive New York apartments, infidelity and the Woody humor. It was especially enjoyable to see the two plots merge, intertwine and split off again and not that difficult to differentiate between the two. Probably the second viewing would uncover more of the little subtleties, making it even more fun than the first time. (Becky Tan)


Second Opinion

Typical Woody Allen premise for a movie. Create a hypothetical scene in Manhattan with a few witty couples wrestling with love and infidelity and squeeze out a few comedic or tragic drops of irony. The premise is that Melinda (Radha Mitchell, Finding Neverland, High Art) drops in unexpectedly on a dinner party in two different Manhattan apartments and creates two alternate realities, one a comedy and one a tragedy. Although Mitchell skillfully pulls off both versions of her character, the stories and dialogue are too bland to create either laughs or tears.
In the lighter version Melinda becomes the object of desire of husband Hobie (Will Ferrell, Elf, Anchorman) whose wife Susan (Amanda Peet, The Whole Nine Yards, Igby Goes Down) is already having an affair so the coast is clear. Hobie and Melinda both have a few dates with others that only help create some jealous tension until they are soon embracing one another.
In the darker version Melinda introduces her friend Laurel (Chloé Sevigny, The Last Days of Disco, Map of the World) to a new lover Ellis Moonsong (Chiwetel Ejiofor, Love Actually, Amistad), which is OK since Laurel's husband is already cheating on her anyway. And besides they both love music. Melinda loses out on that one.
Maybe it's a Midwestern bias but all of these supposedly sophisticated and intelligent New Yorkers seem frightfully shallow and dull. They enter in and out of relationships so carelessly that we don't care what happens to them either. The acting is credible, the performances sound, but the characters they play and the lives they lead just aren't interesting. Most of the scenes are more interesting for the real estate than for the action -- the high ceilings, long hallways and lovely lofts. How do these unemployed and struggling artists pay the rents, even if they are under rent control?
I was hoping for more from Mr. Allen. A little wisdom perhaps, and if not that at least a few good laughs…...maybe next time. (Patricia Ritz)