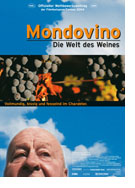 Opening 28 Apr 2005
Directed by: Jonathan Nossiter
Writing credits: Jonathan Nossiter

Three years of interviews of wine producers, experts and critics from three continents has been carefully distilled into a fascinating two-hour documentary about the effects of globalization on the wine industry. Director Jonathan Nossiter has lived all around the world as the son of foreign correspondent Bernard Nossiter of the Washington Post and New York Times. A wine aficionado and sommelier, Nossiter says, "Wine has always been an accurate reflection of the world around it, because it's always been an expression of civilization."
According to many wine professionals, and perhaps most of all to the French, this world is becoming a little less civilized. Never has there been so much power and pride at stake. The battle lines are being drawn between the large multinationals like the Robert Mondavi family from Napa Valley, California, that critics say are creating a homogenized product, and the smaller traditional vintners that are fighting to protect wines that express their local terror.
Aime Guibert, the founder of Daumas Gassac, is a local hero for blocking the attempt by wine giant Pomeral to buy land there. Guibert helped to elect a communist mayor in Aniane who opposes globalization. Charming traditionalist Hubert de Montilly of Burgundy favors his daughter over his more modernist son because she, like he, prefers "chiseled" wine over "flaccid".
Complicating the picture even more is the huge influence of wine critic Robert Parker and his long friendship with wine consultant Michael Rolland, who works with wine producers around the world to create Parker-pleasing wines. Rolland is seen as a wine diva traveling in his chauffeur-driven limo, constantly on his cell phone advising clients to "micro-oxidate"!
As New York wine importer Neal Rosenthal comments, "There's a battle between resistance and collaboration. It's not between modernity and tradition, because you can be modern while respecting tradition." A surprising critic of globalization was Michael Broadbent, the Master of Wine at Christie's who felt that everything has gone downhill since the 18th and 19th centuries when the British aristocracy were the arbiters of good taste.
At every vineyard the camera seemed to be fascinated by the dogs that were always at their masters' side – the protectors of the chateau and perhaps of tradition and of a way of life. Nossiter has succeeded in attempting to "paint a portrait of the struggle of globalization in a very human way." Salute!! (Patricia Ritz)