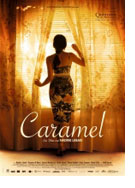 Opening 3 Apr 2008
Directed by: Nadine Labaki
Writing credits: Rodney El Haddad, Jihad Hojeily, Nadine Labaki
Principal actors: Nadine Labaki, Yasmine Elmasri, Joanna Moukarzel, Gisèle Aouad, Adel Karam
The film Caramel leaves a wonderfully sweet after-taste in your mind.The director, Nadine Labaki, plays the main role of the beautiful Layale, owner of the beauty salon where this delightfully interwoven tale of five women who are at turning points in their lives takes place. The intimate look into these women's lives, their struggles and confrontations happens within the colorfully noisy city of Beirut, in Lebanon. It is here that each woman must deal with her own desires and dreams, religious expectations, position in society, all the while feeling she must repress her wishes in the name of convention.
There is Layale, a Christian, who wears a Virgin Mary necklace, but at the same time is having an affair with a married man. There is the beautiful Nisrine (Yasmine Al Masri), a Moslem. She works in Layale's salon and will soon be getting married, but must deal with the fact that she no longer is a virgin. A scandal! But even in Beirut, there is a solution for this little problem. Then we have Rima (Joanna Moukarzel), who is a closet lesbian and enjoys washing women's hair. Her orientation is never spoken of but obvious in her down-to-earth manner. The seamstress, Rose, an older woman, works and lives in her atelier next door to the beauty salon and is confused when a wonderful gentleman, Charles, comes in repeatedly to have his pants shortened and who develops feelings of tenderness for Rose. But Rose is stuck between a rock and a hard place! She must eventually decide either to stay where she is and take care of her older deranged sister or break away from imposed familial expectations, live with guilt and go to her Charles. And last but not least, there is Jamale, best client and friend at the salon. She has been under the scalpel many a time and is confronted with angst about getting old and not having lived out her dream of becoming an actress.
Caramel is the sticky substance by which Middle Eastern women remove unwanted body hair, made of burned sugar, water and lemon juice, and serves as a binding theme throughout the film as Layale uses it on her customers who, while undressed, reveal private secrets about their lives. The film is about longing, waiting, and the incredible bond between women, their relationships with socially and religiously imposed limitations, and their incredible ability to overcome their trials through the use of humor and comraderie.
I don't know if my opinion is somewhat biased because I lived in Beirut for four years, but I thoroughly enjoyed this director's first film. Most surprising was to find out that all the actors are non-professionals but performed impeccably. Caramel has broken all records in its homeland and is the official candidate for an Oscar nomination in the category of best non-English language film. It won the public's favorite prize in Cannes in 2007 as well as in San Sebastian. This film is shown in Arabic with subtitles. (the KinoCritics)