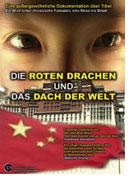 Die Roten Drachen und das Dach der Welt
Germany 2007
Opening 1 May 2008
Directed by: Marco Keller
Writing credits: Marco Keller, Ronny Pfreundschuh

Joining filmmakers Marco Keller and Ronny Pfreundschuh on their journey to and through Tibet, we see familiar pictures of ancient monasteries, snow-topped mountains, and devoted pilgrims. We also see the new railway line to the Holy City of Lhasa and visit Lhasa itself, now looking remarkably like a Chinese town. If you have seen films about Tibet the way it used to be before the Chinese occupation, you're probably in for a shock, as Tibet has changed a lot.
Interwoven with the telling pictures are comments on the situation in Tibet, both from a Tibetan and a Chinese point of view, for example: the Chinese stress the great importance of China's unity and point out the fact that they have made a huge effort to build up the former Tibet, which for them is just an underdeveloped part of China, while the Tibetans mention the forced sterilization of women, the lack of true religious freedom and being swamped by more and more Chinese settlers. The latter is illustrated by the fact that Tibetans living in Lhasa nowadays must speak Mandarin, not only in dealing with the authorities, but also when they simply want to mail a letter or do their shopping. On top of that, only a very small part of Lhasa still looks and feels like a Tibetan, rather than a Chinese, town.
The movie shows the Tibet an open-minded traveller might find, one who knew how to circumvent Chinese censorship. The overall picture is that of a repressed people striving to retain and regain their national identity against seemingly overwhelming odds. In the context of the current (March 2008) uprising in Tibet, this film is particularly enlightening.
Being a bit geographically challenged, I would have welcomed a map of Tibet at times, and I also would have found a little more factual information useful. If you want to get an idea of what the "Tibet Autonomous Region" is like, this movie is maybe the next best thing to a ticket to Tibet. (Christa Greiff)