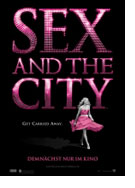 Sex and the City - The Movie (Sex and the City)
U.S.A. 2008
Opening 29 May 2008
Directed by: Michael Patrick King
Writing credits: Michael Patrick King, Candace Bushnell
Principal actors: Sarah Jessica Parker, Kim Cattrall, Kristin Davis, Cynthia Nixon, Chris Noth
The long-awaited movie version of Sex and the City is out, and if you are a fan of the show, it won't disappoint. The girls are all back: Carrie, Samantha, Miranda and Charlotte, and they are all about love and labels. Even with dreadful reviews, women across the U.S. and Europe are flocking to this film, and box office sales have outperformed the much anticipated Indiana Jones and the Kingdom of the Crystal Skull.
So, what's all the fuss? Honestly, if you are not a fan of the show, stay home. The movie is truly an homage to the success of the HBO series. It's even more over the top than any of its previous TV episodes. The brand placements alone will make your head spin. I wonder how many Louis Vuitton Denim handbags have been sold as a result of this film?? These women have it all, and they are all about showing it. Patricia Field (costume designer) drapes them in one fabulous outfit after the other. She truly has outdone herself. Fashionistas will be delighted if not satiated.
Michael Patrick King (writer/director) begins with a brief montage of each character, presumably for those who have not seen the TV series. Thankfully, he soon moves beyond the character bios and brings us up to date with their lives today. Several years and several books later, our heroine or modern day Jane Eire, Carrie Bradshaw (Sarah Jessica Parker) is a little wiser, wealthier and, yep, older. Mr. Big is still in the picture, although their history would find that hard to believe. Miranda (Cynthia Nixon), the closest we come to a true-to-life character, is struggling between motherhood, marriage, work and Brooklyn. Samantha (Kim Cattrall) is living large in L.A., where she spends her time managing publicity for her boyfriend Smith (Jason Lewis), now a big star in Hollywood. Charlotte (Kristin Davis), who is even more the optimist, is still happily married and enjoying motherhood in her sprawling pre-war, upper-east side apartment.
Once the film moves beyond the product placements and the flashy photo shoots, the lives of these fabulous women begin to unfold in all too predictable ways. As one would guess (the movie trailer kind of gives it away) Mr. Big and Carrie break up again!! Miranda and Steve (played so well by David Eigenberg) run into some rough times. Samantha struggles with her identity and begins to miss the one person she loves the most, herself. Charlotte is the only character whose life continues to move forward as always, but she begins to question her luck. Throughout it all these women remain true to each other and support each other through thick and thin. There are moments where their friendship is tested, particularly between Carrie and Miranda, but they persevere and the film continues.
Honestly, I loved the film, but for strictly personal reasons, which is why I am having such a difficult time writing this review. I see its flaws and acknowledge its absurdity, but having lived, worked and played in New York City, I can't help but love it. I used to walk down 16th Street where I lived for twelve years and watch Sex and the City being filmed at various locals that I, too, frequented. I watched as Sarah Jessica Parker grew into Carrie Bradshaw. Each year she became more stylish and more confident. I would run into her occasionally at the neighboring playground with her hubby and newborn son. She was always very friendly and gracious. We once had a lengthy conversation about pacifiers at bedtime. She was pro, I was con. Which brings me to my next point: women. We need each other and this show/movie celebrates that need. At the height of the shows success, I became a mom for the first time, and if it were not for my two closest mommy friends (Melissa and King), I would have gone crazy. Hormones raging and filled with self-doubt, I weathered the storm of new mom syndrome by having endless conversations with Melissa and King about each and every worry and delight.
It's the ultimate chick-flick. Grab your girlfriends and enjoy! (Karen Engelke)