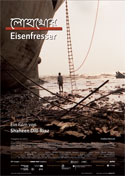 Eisenfresser (Iron Eaters)
Germany 2007
Opening 12 Jun 2008
Directed by: Shaheen Dill-Riaz
Writing credits: Shaheen Dill-Riaz

Each year hundreds of young men from northern parts of Bangladesh go south to Chittagong to work in ship-breaking yards. Huge tankers and container ships are run aground along the coast and these men dismantle them piece by piece in order to resell the iron. They are divided into teams of cable pullers, cutters or plate carriers. They work under primitive conditions with little to protect them from falls, fire, suffocation or snapping cables: no helmets, often no shoes or gloves.
Director Shaheen Dill-Riaz knows his subject matter, having originated from Bangladesh before he studied film in Germany. He follows the lives of individuals from one village such as Kholil, Nobir, and Gadu. In this documentary he presents their working conditions, simple living quarters near the skeletal ships and gentle friendships on and off the job. The men buy their food from the company store and accumulate debts which are deducted from their salaries. It's amazing that Dill-Riaz received unconditional permission to film at the PHP (Peace, Happiness Prosperity) Company which was established in 1982, considering that it makes a miserable impression re: any kind of philosophy of workers' rights. Probably the heads of the company find nothing wrong in working the men like animals, withholding salaries to prevent them from leaving to harvest their rice crops, and doing without written contracts. Dill-Riaz, who is also responsible for the script, photography and commentary, has made an important statement which privileged members of the Western world should take to heart. The photography is especially excellent, often beautiful in spite of the neediness. (Becky Tan)


Second Opinion

In this documentary written, filmed and directed by Shaheen Dill-Riaz, seasonal famine in northern Bangladesh drives men to the coastal south where they can find work as iron eaters, those who break down huge old tankers, container ships using little more than their bare hands, recovering every bit of the iron for resale to the construction industry. The work is divided into castes – with the northern men at the lowest end. Treated like idiots, shoeless and dressed in little more than a wrapped fabric around their hips (reminiscent of the Egyptian slaves building the pyramids), they are the cable carriers who as a team maneuver the huge beached ships and its parts for less than 70¢ a 10-hour day. This treatment allows the higher ups to justify their superiority. As 60% of the world's retired ships are broken down in Bangladesh, the managers, owners and surrounding businesses are making a killing with this new industry that only began in the 1960s, revealing an ugly consequence of globalization.
Visually the film is exciting as these tiny "ants" navigate the massive ghost ships, whose creaking resembles a monster animal's wail. "It's not only the work procedure which makes this world so unique, but also the admirable strength of the workers. Superhuman figures with primitive tools recycling everything to the very last screw stand before the refuse of civilization. It is exhausting, dangerous and basically impossible work. And yet they manage to do it and have been doing so for years." (Shaheen Dill-Riaz). Eisenfresser, produced by Hamburg's Lemme Film GmbH, has won many awards, among them: New Berlin Film Award 2008 for best documentary and the Grand Prix 2007 des Festivals Le Festival International Du Film D'Environnement, Paris. (Nancy Tilitz)