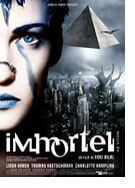 Opening 26 May 2005
Directed by: Enki Bilal
Writing credits: Enki Bilal, Serge Lehman
Principal actors: Linda Hardy, Thomas Kretschmann, Charlotte Rampling, Frédéric Pierrot, Thomas M. Pollard
Hungarian-born French graphic novelist Enki Bilal has created a science fiction-fantasy film from a series of three graphic novels called the Nikopol trilogy. It is one of the first films to use an entirely digital backlot, a technique often used for TV and video. Actors are shot in front of a blue and green screen, like TV weathermen with the same drawbacks. His comic book 32 Decembre was the top selling book in France in the summer of 2003.
As with most cartoon storyboards, the plot is limited, the characters two dimensional and the dialogue limited to what can fit in a small bubble. Not encouraging, but I was curious to see what creative minds are imagining the future to be. Again, not encouraging.
Place. New York City. Time. 2095. Plot. Egyptian God Horus with the body of a human on serious steroids but with the head of a bird descends into the city from a hovering pyramid. He has only seven days to inhabit the body of a human and impregnate a woman. (I think I had to read a poem like that in college about Leda, the swan, her shuddering thighs and Agememnon dead. The progeny of that bizarre mating started the Trojan War which led to the end of ancient mythology and the beginning of Modern History.) Nothing quite so dramatic here.
Stage Directions. Enter hero Nikopol (Thomas Kretchman), released from cryogenics a year early. He is anti-eugenics, the process of creating beings from organs of mixed sources, an evil corporate profit scheme. Enter woman Jill (Linda Hardy), biologically only three months old and with amnesia, but a mutant body fantastic enough to please even a God. Her doctor (Charlotte Rampling) is also fascinated by her, but only for professional reasons, of course.
Action. Horus enters Nikolpol's body without his permission and proceeds to have his way with Jill, several times. Meanwhile a strange gooey red thing tries to kill Jill. Escape in 50s looking car that can fly through the desolate and abandoned city. Pretty much end of story.
I never did like comic books – especially science fiction. I preferred Mad Magazine. (Patricia Ritz)