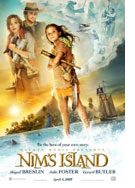 Die Insel der Abenteuer (Nim's Island)
U.S.A. 2008
Opening 19 Jun 2008
Directed by: Jennifer Flackett
Writing credits: Joseph Kwong, Paula Mazur, Mark Levin, Jennifer Flackett
Principal actors: Abigail Breslin, Jodie Foster, Gerard Butler, Michael Carman, Mark Brady
The heroine of this fantasy-adventure movie is a girl, the 11-year old Nim (Abigail Breslin, Little Miss Sunshine). She lives with her dad, a marine biologist, on an exotic island in the South Sea. Their treehouse is hidden halfway up the hill and has all the comforts of a modern world, like electricity and a computer. Once a month all supplies come by ship, including books for Nim. She never had a formal school education, learning from nature, her father and her books. Her friends are a huge turtle, a sea lion, a little lizard and the pelican called Galileo.
Excitedly she unpacks the latest book by Alex Rover (Gerard Butler, P.S. I Love You, 300) and is immediately immerged in his world. He is her hero, always brave and strong, never afraid to tackle any problem on his way to new adventures. When her father goes missing after a storm at sea, Nim is scared and feels lonely. She seeks help from her hero Alex Rover by writing him an email.
But Alex Rover is a fiction of the woman-writer Alexandra Rover, a hypochondriac who has not left her house for months and is too scared to go as far her mailbox at the garden gate. How can she be of help to the little girl on the other side of the globe? Jodie Foster gives a wonderfully funny performance as Alexandra Rover, who eventually musters up enough courage to leave her safe surroundings. Nim is in distress believing the island is to be invaded by pirates. When tourists invade the island – a new type of piracy – Nim tries her best to frighten them off with the help of her animal friends. Alexandra Rover nearly drowns in the stormy sea before being rescued by Nim. The underwater scenes may remind you of Whale Rider, but the hero Alex Rover surely had Indiana Jones as role model. Alexandra, the novelist, lands on the island, and it is time for Alex Rover to disappear in the waves. She has to live up to reality, to be able to help Nim.
The action is well spaced and has plenty of funny moments, especially well-acted by a wonderful Jodie Foster. I very much enjoyed the hilarious satire on air-travel when she is being harassed at the security gates. Gerard Butler convinces in his double role as Alex Rover and Jack, Nim's father. I only found the shipwreck sequences too long and repetitive. Other scenes are just short of being silly, but then the film is light-hearted enough to just laugh it off. It is a perfect family movie offering a combination of action, real jungle feeling – filmed on an Australian island – mixed with humor and emotion, cleverly switching between fantasy and reality.
At the start, unusual, creative animations give a short introduction, and the film ends with the same visual appeal. Jennifer Flackett and Mark Levin wrote and directed this extravaganza of escapism, which is based on the book by Wendy Orr and Kerry Millard. The British film composer Patrick Doyle provides a fitting score for this entertaining experience on a tropical island. (Birgit Schrumpf)