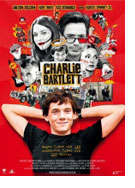 Opening 26 Jun 2008
Directed by: Jon Poll
Writing credits: Gustin Nash
Principal actors: Anton Yelchin, Robert Downey Jr., Hope Davis, Kat Dennings, Tyler Hilton
Starring Anton Yelchin (Charlie), Robert Downey, Jr. (Principal/Mr. Gardner), Hope Davis (Marilyn Bartlett), Kat Dennings (Susan Gardner) and Tyler Hilton (Murphy Bivens)
"My family has a psychiatrist on call, how normal can I be?" yet Charlie Bartlett is normal if only in one way: he yearns to be popular in high school and he wants to get "the girl."
This brilliant film achieves both goals stellarly while driving home an important message. In a culture that wants to medicate all ugliness and unhappiness away but declares a war on drugs, Charlie's strategy to become popular is pure genius. Charlie, the nerdy rich but engaging new kid, co-opts the school bully Kip into a business relationship emblematic of our society. Both outcasts, Charlie obtains tons of meds from his mother and willing psychiatrists, Kip sells the "happy pills" AND unlike irresponsible dealers, Charlie provides psychotherapy to their disaffected and lost classmates. We are a long way from Fast Times at Ridgemont High. In a society without responsible adults, getting stoned in the car is no longer enough.
The "girl" in question is the principal's daughter, Susan. She oozes coolness factor 10. To get her attention, Charlie makes his mark around school, upgrades his wardrobe and shades regularly and joins the drama club, her gig. While Susan may radiate "princess" – ruby red lips, flawless skin – she is in control of her destiny. She provides an excellent model of a contemporary daughter and girl who is responsible for herself and those around her.
Two things in particular elevate this film beyond the usual high school comedy: the humanity of the parents and the uplifting end. Charlie gets home to a grand mansion redolent of 1930s Hollywood, all dark wood, grand pianos and terraced gardens. Mrs. Bartlett, cocktail in hand and whacked out on Klonopin, looks forward to singing show tunes with Charlie at the piano. She is no fallen former starlet, she is a deeply depressed woman whose daily goal is to be a mother for Charlie as best she can. The chemistry between Hope Davis and Anton Yelchin is wonderful. Pure zaniness in the finest screwball tradition. She may be "home" in that 1950s way, perfectly turned out and all chemical smiles, but she is not the resident adult in charge – she is your mom as best friend. Kudos to Hope Davis for the right mix of wackiness and neediness.
In contrast, Susan shares a nice suburban house with her dad, the high school principal, Mr. Gardner. Like Mrs. Bartlett, Mr. Gardner drinks his sorrows away, scotch in hand. He is an unhappy man forced into school administration when he'd rather teach history. His wife has left him for reasons unknown. On good days he competes with music, infotainment and cell phones for his daughter's attention. The key is that he still tries to reach Susan. When a student overdoses, Mr. Gardner takes Charlie to task for Charlie's incredible degree of self-indulgence and irresponsibility. Mr. Gardner may be a flawed parent but is still a teacher with a capital T. The scenes of Robert Downey, Jr. expounding on alcohol and drug abuse while waving a gun around his head chilled my spine. Whether art was imitating life or not, Robert Downey, Jr. is the best actor of his generation.
Whether you miss high school, need a good laugh, or adore Robert Downey, Jr, do not miss this film. (Rita Pearson Schwandt)