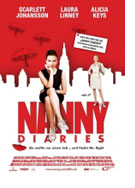 Nanny Diaries (The Nanny Diaries)
U.S.A. 2007
Opening 14 Aug 2008
Directed by: Shari Springer Berman
Writing credits: Shari Springer Berman, Robert Pulcini, Emma McLaughlin, Nicola Kraus
Principal actors: Scarlett Johansson, Donna Murphy, John Henry Cox, Alicia Keys, Lewis Payton Jr.
In the film by Shari Springer Berman and Robert Pulcini, Annie Braddock (Scarlett Johansson) hires on as a nanny to five-year old Grayer. He and his parents, Mr. and Mrs. X, live in an Upper Eastside New York apartment, surrounded by wealth but no emotional warmth. Mr. X is an absent, cheating husband. Mrs. X is a woman who "neither works nor mothers." She attends benefits and child-rearing workshops. She presents a catalog of rules for Grayer: he must learn French and be accepted in the right elementary school; he may not eat peanut butter nor ride the subway. Annie's friend Lynette (Alicia Keys) and love interest Harvard Hottie (Chris Evans) help her leave this impossible job. It is a difficult decision since Annie has opened her heart to little Grayer. In retrospect, she treats the whole experience as an anthropological experiment, discussing the "bizarre social patterns of this Upper East Side tribe" and her reluctance to leave the family as "losing oneself in the culture one studies," with a symbolic bit of Mary Poppins thrown in for good measure.
This stays true to the 2002 book of the same name, which popularized the term "play date," by Emma McLaughlin and Nicola Kraus. They wrote about their real experiences as nannies in NYC. In the film Lynette says, "My grandmother worked as a domestic so that we wouldn't have to." That should be the core of the story: the hard-working Spanish speaking, black or European baby-sitters and au pairs who put up with greater immaturity from parents than from the children. They do not have the luxury of quitting for something better. But then the film would have no longer been a comedy. Laura Linney is excellent as Mrs. X, definitely as good as Meryl Streep in a similar role in The Devil Wears Prada. Johansson portrays Annie as an indecisive, insecure person. I imagine the authors in real life to have been strong women with a goal. Hopefully, the shots of New York City are not digitally copied but the real thing. It was wonderful to see the Museum of Natural History again. (Becky Tan)