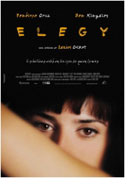 Elegy oder die Kunst zu Lieben (Elegy)
U.S.A. 2008
Opening 14 Aug 2008
Directed by: Isabel Coixet
Writing credits: Nicholas Meyer, Philip Roth
Principal actors: Sonja Bennett, Patricia Clarkson, Penélope Cruz, Ben Kingsley
Director Isabel Coixet has based Elegy on Philip Roth's novel The Dying Animal, and the film starts with David Kapesh (Academy Award-winner Ben Kingsley) bemoaning the fact of aging and contemplating the virility of men. He can hardly wait for the university semester to finish, when traditionally he gives a party at his house for all students, allowing himself to be a "private person" – shedding the "professor". For months he has been yearning to lay his hands on an attractive, dignified and innocent-looking student, Consuela Castillo (Oscar-nominee Penelope Cruz). By way of talking to her about art and showing her his impressive collection, he makes her feel at ease. He takes her out to restaurants and – at long last – takes her to his bed. She has no suspicion that this was his only intention in the first place. She falls in love, believing they have a future together.
Carolyn (Oscar-nominated Patricia Clarkson), his mistress for 20 years, also thinks they have a bond of trust and honesty which will last. Whenever her business commitments give her a chance, she appears on his doorstep. This arrangement has worked well until Carolyn discovers some of Consuela's belongings. She accepts the consequences, remaining very gracious in calling off their longstanding relationship.
The professor can still depend on his old friend, the poet and fellow-womanizer George O'Hearn (wonderfully portrayed by Dennis Hopper). They play squash together and enjoy their men's talk. George is married, enjoying short-lived affairs with younger women, but does not believe in falling in love with them.
Kapesh gets more and more captivated by Consuela's beauty, considering her body a "real work of art", suffering jealous fantasies. George advises him: "Beautiful women are invisible. No one can see the actual person. We are so dazzled by the outside; we never make it to the inside." Kapesh cannot grasp that there is more to Consuela than her outer appearance. When she invites him to meet her family, he feigns an accident, letting her down yet again. Disappointed and hurt, she ends the love affair.
Two years later Consuela phones him unexpectedly on New Year's Eve, wanting to see him urgently. His momentarily high-hopes are rudely shattered when he listens to her sad news. Too late he can see her as a true and warm-hearted person.
It is a pleasure to watch Penelope Cruz, seemingly at ease with her role. Her presence brings the film to life, stealing the show from Ben Kingsley (otherwise my hero) who remains too aloof. (Birgit Schrumpf)