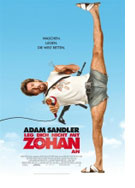 Leg Dich nicht mit Zohan an (You Don't Mess with the Zohan)
U.S.A. 2008
Opening 14 Aug 2008
Directed by: Dennis Dugan
Writing credits: Adam Sandler, Robert Smigel, Judd Apatow
Principal actors: Adam Sandler, John Turturro, Emmanuelle Chriqui, Nick Swardson, Lainie Kazan
You have to respect a comedian who tries to adapt Middle Eastern conflict into a raunchy comedy, and Adam Sandler has done just that, with a sweet little resolution sewn in to ease your guilt for laughing. He is forgiven for the multitude of Jewish stereotypes and jokes (like Sascha Baron Cohen doing Jew-hating Borat) on the grounds that he is making fun of his own heritage. That being said, if you are sensitive to being offended by overdone hummus humor, Adam Sandler himself or making light of the Israeli conflict, you should just steer clear altogether.
Zohan (Adam Sandler) is Israeli anti- terrorist agent number one, the pride of the nation due to his amazing physical prowess and cunning, but deep down he just wants to cut "silky smooth hair". Faking his own death in a confrontation with Palestinian arch enemy Phantom (John Turturro), Zohan escapes his army obligations, covertly making a new start in New York City to follow his hair-styling dreams. Armed with a Paul Mitchell catalogue from 1981, he hits Manhattan, only to encounter the same old Middle Eastern issues in his new downtown turf. Zohan, a.k.a. Scrappy Coco, brims with confident sexual energy and hairdresser passion, overcoming just about every cultural barrier and adversity that comes his way, including a crush on his sexy Palestinian boss, Dalia (Emmanuelle Chiriqui).
Sandler has the audience up to here. The visual treat of Zohan himself in Versace-esque shirts, jean cut-offs or in the buff sporting buns of steel is ongoing; his love of hummus, Fizzy Bubbleh, and having his way with the old ladies of the neighborhood additionally makes him an endearing character of innocence. With real belly laughs you may catch yourself noting that perhaps humor is the only vehicle left to address 2000 year old strife that appears to see no end, especially when Zohan's biggest NY foes are turbaned taxi drivers (Rob Schneider, Ido Mosseri) who double-job as cell phone telemarketers while driving. Instead of choosing sides to formulate his Middle Eastern solution, pragmatic Sandler lets capitalism override tensions and allows greedy businessmen to become the villains, poking fun at all things sensationally American (Donald Trump, implanted blondes, fast food chains, Homeland Security…). Falling back on the tired standby of "love conquering all", the plot dissolves to just plain silliness at a Hack Sack tournament (cameo Mariah Carey); it's not quite the peace talks finale we were anticipating.
Kudos and 3.5 stars to Sandler for tapping an unbelievably politically-incorrect vein and pumping out a good time for both the teen target audiences and wary adults. Not quite Eric Idle singing on the cross with eternal optimism in The Life of Brian…but close. Mazeltov! (Kirstan Böttger)