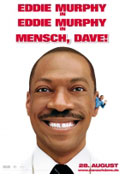 Mensch, Dave! (Meet Dave)
U.S.A. 2008
Opening 28 Aug 2008
Directed by: Brian Robbins
Writing credits: Rob Greenberg, Bill Corbett
Principal actors: Eddie Murphy, Elizabeth Banks, Gabrielle Union, Scott Caan, Ed Helms
In Meet Dave, Eddie Murphy doubles as Cpt. Dave Ming Chang and his spaceship.
Yes, you've read right. This hilarious Sci-Fi comedy is about a space ship in human form and about the spaceship's crew of miniature aliens, led by Cpt. Dave Ming Chang, both played by Murphy.
On a mission to save their home planet, they crash land near the Statue of Liberty.  To find a certain orb they need for their mission, the spaceship Dave (with its miniature captain and crew inside) searches New York and promptly gets run over by a car, because the pedestrian crossing signs  are not alien-proof. Once recovered, Dave meets some of the natives, among them Josh (Austyn Lind Myers) who has the orb. What Josh doesn't know: This orb, which looks like a miniature meteorite, is really a dangerous technical device. Activated by the aliens in an attempt to save their own planet, it would make Earth uninhabitable. The aliens know this, but they can't be bothered to care about the "gargantuan barbarians" (us). After all, it's their survival or ours. Or is it?
Well acted, written (by Rob Greenberg and Bill Corbett), and directed (by Brian Robbins), this family movie (rated PG) is great fun from beginning to end. I literally laughed tears at times.
Go meet Dave! (Christa Greiff)