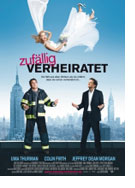 Zufällig Verheiratet (The Accidental Husband)
U.K./U.S.A. 2008
Opening 13 Nov 2008
Directed by: Griffin Dunne
Writing credits: Mimi Hare, Clare Naylor, Bonnie Sikowitz
Principal actors: Uma Thurman, Colin Firth, Jeffrey Dean Morgan, Sam Shepard, Lindsay Sloane
When this movie comes out on DVD I am going to buy it and watch it again with a pint of Ben & Jerry's ice cream at 2:00 am when I am feeling down. Then it will sit on my shelf next to My Best Friend's Wedding and You've Got Mail. Yes, the plot was a bit silly and improbable. Sure, it was fluffy and predictable. There are no groundbreaking special effects, and the script will not be hanging in my head for days causing me to ponder my place in the universe. But it made me laugh. It was witty and charming, the characters had chemistry, and it kept me entertained for an hour and a half. Isn't that what a good chic flick is all about?
Uma Thurman stars as Dr. Emma Lloyd, a no-nonsense radio host and author of the self-help book R.E.A.L. Love, who carefully arranges her life based on the idea that compatibility trumps passion, and romantic love is nothing more than fear of independence. When Emma urges women, over the airwaves, to rid themselves of their Cinderella Complexes, one woman takes her advice to heart and breaks off her engagement with happy-go-lucky New York fireman Patrick Sullivan, played by Jeffrey Dean Morgan. (You might remember him as the Irish hunk in P.S. I Love You.)
In a quest for revenge, with the help of a computer hack, Patrick registers his marriage to Emma, putting a wrinkle in her own plans to marry her publisher Michael, played by Colin Firth. To straighten this out, Emma needs to find Patrick and get him to sign the annulment papers. I am sure you can see where this is going by now. Of course sparks fly and, after a series of mishaps, Emma begins to question her stance on romance.
Uma Thurman decided to venture into producing when she received this script from two unknown writers, Mimi Hare and Clare Naylor. Griffin Dunne jumped on as director, and the supporting cast includes Isabella Rossellini, Brooke Adams, and the ever-charming Sam Shepard.
Of course it's predictable! It's a romantic comedy! But it's warm and fuzzy, and that's what I love about it. (Shawn Klug)