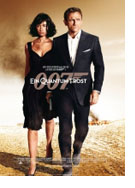 James Bond 007: Ein Quantum Trost (Quantum of Solace)
U.K./U.S.A. 2008
Opening 6 Nov 2008
Directed by: Marc Forster
Writing credits: Paul Haggis, Neal Purvis, Robert Wade
Principal actors: Daniel Craig, Olga Olga Kurylenko, Mathieu Amalric, Judi Dench, Giancarlo Giannini
The director, Marc Forster, starts the new Bond film, a sequel to Casino Royal, with a bang. The lights have hardly gone off when we are immediately immersed in a suspenseful car chase with spinning wheels cutting sharp corners through narrow streets and following hairpin curves through picturesque Italian landscape. Adrenalin pumping, we see James Bond (Daniel Craig) arriving safely for his report to M (Judy Dench). Mr. White (Jesper Christensen) of the enemy organisation that killed Vesper, Bond's lover, has been captured and is being interrogated. His organisation turns out to be more dangerous than M had realised and has already infiltrated their ranks. Bond makes it his personal goal to get to the bottom of the intrigue. Does he want to take revenge?
Plenty of action follows. Beautiful Camille (Olga Kurylenko), having her own private motives, comes to Bond's rescue and has in turn to be rescued by him at a later stage. Over-zealous, naive agent Fields (Gemma Arterton) tries to take care of him in South America but is soon killed by the enemy. We only see her again at the end of the film spread out on the hotel bed completely covered in black crude oil.
The story of Quantum of Solace may not be as emotionally gripping as Casino Royal but it will nevertheless be another "007" success. Daniel Craig as James Bond shows stamina, strong will and endurance. He is sporty, good looking and very convincing. One of his opponents is the fabulous French actor Mathieu Amalric as the shifty and cunning entrepreneur Dominic Green. Together with his stooge Elvis (Anatole Taubmann) they make an odd but dangerous couple.
The film keeps to an unrelenting speed at all times in taking the action to a number of countries – Italy, Mexico, Chile, Austria – with interesting and beautiful settings. One excellent idea is the shoot-out accompanied by an opera performance of Tosca in Bregenz where a huge eye (very fitting) overlooks the stage. Fascinating, too, is the futuristic, inventive technical equipment handled by M and her M16 department. Judy Dench as M is a pleasure to watch. What an exceptional woman! (Birgit Schrumpf)